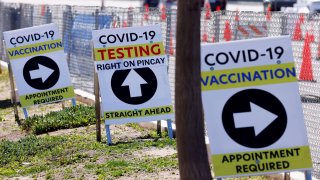 The coverage in this blog has ended.
AstraZeneca issued a revised efficacy rate for its Covid-19 vaccine late Wednesday after a U.S. health agency questioned the accuracy of a preliminary report published earlier this week. The company said its vaccine is 76% effective in protecting against symptomatic cases of Covid, down from the 79% symptomatic efficacy rate it reported on Monday.
Here are some of the biggest developments Thursday:
The U.S. is recording at least 57,500 new Covid-19 cases and at least 970 virus-related deaths each day, based on a seven-day average calculated by CNBC using Johns Hopkins University data as of 7 a.m. ET.
The following data was compiled by Johns Hopkins University:
Global cases: More than 125.23 million
Global deaths: At least 2.74 million
U.S. cases: More than 30.05 million
U.S. deaths: At least 545,941
About 30 million people may get stimulus payments now that IRS has their information
The Social Security Administration has responded to a 24-hour deadline set by lawmakers that will help clear the way for about 30 million people to receive $1,400 stimulus checks.
The agency transferred the payment files to the IRS on Thursday morning. Prior to that, the stimulus checks had been blocked because the IRS did not have the necessary information, according to a statement from Democratic leaders on the House Ways and Means Committee.
Four lawmakers on that committee — including Chair Richard Neal, D-Mass., as well as Reps. John Larson, D-Conn.; Bill Pascrell, Jr., D-N.J.; and Danny Davis, D-Ill. — had called for the Social Security Administration to transfer the information.
In a statement, the leaders blamed Social Security Commissioner Andrew Saul for the delays, which "defied congressional intent and imposed needless anxiety and pain on taxpayers."
"Now the IRS needs to do its job and get these overdue payments out to suffering Americans," the leaders said. "Further delays will not be tolerated by this committee."
Saul refuted the lawmakers' claims. He said in a statement the SSA began working with the IRS as soon as it could. Moreover, the payment information delivered to the IRS was more than a week earlier than it was for the first round of stimulus payments.
"Social Security employees have literally worked day and night with IRS staff to ensure that the electronic files of Social Security and SSI recipients are complete, accurate, and ready to be used to issue payments," Saul said.
"There is no one more committed to serving the public than the employees of this agency ... I find any insinuation to the contrary to be unacceptable," he added.
— Lorie Konish
Amazon launches on-site Covid-19 vaccinations at some warehouses
Amazon is launching on-site vaccination clinics at warehouses across three states, the company announced Thursday.
The first clinic is opening Thursday at a warehouse in Missouri and more clinics will open at facilities in Nevada and Kansas in the coming weeks. At the clinics, which are expected to run for about five days, vaccines will be administered to employees by licensed health-care providers.
Amazon expects to launch clinics at additional warehouses in the U.S. as more vaccine supply becomes available to front-line employees in other states. Some of Amazon's frontline workers have already been vaccinated in states where they're eligible.
The move comes as the U.S. continues to pick up the pace of vaccinations, with the nation administering more than 2.5 million shots per day.
— Annie Palmer
North Carolina to open vaccine eligibility to all adults beginning April 7
North Carolina will allow all adult residents to sign up for a Covid-19 vaccine beginning April 7, Gov. Roy Cooper said in a tweet.
The governor also announced that the state will open vaccine eligibility to essential workers in "commercial services such as hospitality and retail, chemical and pharmaceutical facilities, construction, housing and real estate and other essential sectors," beginning March 31.
"We've been faster and have gotten more supply than we had anticipated, and that's fantastic," Cooper said in a tweet.
— Noah Higgins-Dunn
Senate votes to extend the Paycheck Protection Program through May 31
The Senate on Thursday voted 92-7 to extend the Small Business Administration's Paycheck Protection Program by two months to May 31.
PPP, which gives forgivable loans to small businesses hit by the coronavirus pandemic, was set to expire on March 31, just a few weeks after the Biden administration announced updates to the program. In addition to the two-month extension, the bill passed by the Senate will give the SBA an additional 30 days from the May 31 deadline to process loans.
The vote comes about a week after the House of Representatives passed the PPP Extension Act of 2021 and sent the legislation to the Senate, where a companion bill had been introduced previously by a bi-partisan group.
Next, the bill will be sent to President Joe Biden to be signed into law.
—Carmen Reinicke
Rutgers University will require students to be fully vaccinated this fall
Rutgers University said it will require students returning to campus this fall to prove they've been vaccinated against Covid-19, becoming one of the first institutions in the U.S. to mandate the immunizations.
Requiring students to get vaccinated against the disease will allow Rutgers to resume a wide range of activities and will allow for an "expedited return to pre-pandemic normal," Rutgers President Jonathan Holloway said in a statement.
Students who are fully enrolled in online courses without access to on-campus facilities will be exempt from the mandate, according to the statement, as well as those with medical or religious reasons that prohibit immunization.
—Noah Higgins-Dunn

California to open vaccine eligibility to everyone 16 and older beginning April 15
California will open its Covid-19 vaccine eligibility to everyone aged 16 and older beginning on April 15, according to a statement from Gov. Gavin Newsom's office.
Residents aged 50 and older will be able to register for an appointment starting April 1.
California currently receives roughly 1.8 million doses per week from the federal government. That figure is expected to grow to more than 3 million by late April, the statement said.
More than 10.5 million California residents have received at least one vaccine dose so far — roughly 26% of the population, according to the latest data from the U.S. Centers for Disease Control and Prevention.
"With vaccine supply increasing and by expanding eligibility to more Californians, the light at the end of the tunnel continues to get brighter," Newsom said in a statement.
—Noah Higgins-Dunn
Broadway could open in September, as New York lays out plans to vaccinate theater workers
New York City Mayor Bill de Blasio is setting his sights on September for a long-awaited reopening on Broadway.
During a daily briefing Thursday, de Blasio outlined a plan to vaccinate theater workers so that the district and its shows could begin running again this fall.
"The show must go on," he said. "And the show will go on."
In addition to mass vaccinations, de Blasio said the city is working on ways to increase Covid-19 testing near the theaters and create plans to manage crowds before and after a show.
—Sarah Whitten
Biden sets new goal of 200 million vaccine shots within first 100 days
President Joe Biden announced a new goal of 200 million vaccines within his first 100 days in office, a White House official told NBC News.
The new goal comes after the president met his previous objective of 100 million shots well before the 100-day benchmark, CNBC's Dan Mangan and Berkeley Lovelace Jr. report.
The U.S. is averaging about 2.5 million doses per day in the last seven days.
The federal government has orders for 200 million Johnson & Johnson vaccines, along with 600 million doses from Pfizer and Moderna combined.
–Rich Mendez
Pfizer begins vaccine trial on kids younger than 12
Pfizer started a clinical trial testing its Covid-19 vaccine on healthy 6-month to 11-year old children, a crucial step in obtaining federal regulatory clearance to start vaccinating young kids.
Vaccinating children, which make up roughly 20% of the U.S. population, is crucial to ending the pandemic, health experts say. The U.S. is unlikely to achieve herd immunity – when enough people in a given community have antibodies against a specific disease – until children can get vaccinated, experts say.
For the first phase of the trial, the company will identify the preferred dosing level for three age groups – between 6 months to 2 years old, 2 years to 5 years old and from 5 years through age 11. The kids will begin by receiving a 10 microgram dose of the vaccine before progressively moving to higher doses, Pfizer said.
Researchers will then evaluate the safety and effectiveness of the selected dose levels in the next phase of the trial, with participants being randomly selected to receive the vaccine or a placebo, the company said.
–Berkeley Lovelace Jr.
About $325 billion in stimulus checks has gone out so far
The government has sent a total of about 127 million $1,400 stimulus checks so far, for a total of about $325 billion.
The new tally was announced by the Treasury Department, Internal Revenue Service and Bureau of Fiscal Service after the second batch of payments was completed that included about 37 million checks that totaled almost $83 billion.
The third round of stimulus payments was authorized by Congress and President Joe Biden when the American Rescue Plan was passed earlier this month.
If you are still waiting on the money, take note: additional payments are set to be made in the coming weeks.
While most of the stimulus checks have been paid by direct deposit, others are being issued through the mail either through paper check or prepaid debit card.
Most people do not need to take any action in order to get their payments, according to the government agencies.
The IRS is working to obtain updated information so that federal beneficiaries — those who receive income from Social Security, Supplemental Security Income, Railroad Retirement Board or the Veterans Administration — get their automatic payments promptly, the agencies said.
—Lorie Konish
Trump's former vaccine chief departs more companies following sexual harassment claims
Moncef Slaoui, the Trump administration's former Covid vaccine chief, is parting ways with two more companies just a day after he was fired as chairman of Galvani Bioelectronics, a joint venture between GlaxoSmithKline and Verily, following sexual harassment allegations.
Centessa Pharmaceuticals announced that the former head of Operation Warp Speed has stepped down as chief scientific officer, effective immediately. Vaccine developer Vaxcyte also said in an SEC filing posted to its website that Slaoui has agreed to step down from his position as chairman at the company's request.
Slaoui apologized Wednesday following the allegations and said he would take a leave of absence from his current responsibilities to focus on his family.
—Noah Higgins-Dunn
Free with Covid vaccine: Krispy Kreme, marijuana and more
Getting vaccinated is its own reward, but some businesses are doing their part to sweeten the pot.
AT&T, Instacart, Target, Trader Joe's, Chobani, Kroger, Publix, Petco, Darden Restaurants, McDonald's and Dollar General are among several companies giving workers time off and extra money to get vaccinated against Covid-19.
Now, Krispy Kreme Doughnuts is offering a free doughnut a day for the rest of the year to anyone with proof of a Covid vaccination.
The Greenhouse of Walled Lake, a marijuana dispensary in Walled Lake, Michigan, is giving anyone over the age of 21 with proof of vaccination a free pre-rolled joint. In Cleveland, Market Garden Brewery is offering 10-cent beers and Chagrin Cinemas is giving out free popcorn to moviegoers with a vaccination card.
A survey by Blackhawk Network found that these incentives could be effective. One-third of workers said they would get vaccinated for $100 or less.
— Jessica Dickler
CNBC's vaccine passport sentiment poll
CNBC's Brian Sullivan discusses a poll on sentiment around vaccine passports on the daily "Random But Interesting" (RBI) segment on "Worldwide Exchange."
United launches 26 new nonstop flights from the Midwest in bid for vacationers
United Airlines is making a bet on Midwest vacationers this summer, adding 26 new non-stop flights and resuming 20 other domestic routes for the summer season.
The focus shows United is continuing to think of ways to capitalize on vacation demand during the pandemic that goes beyond its traditional model of routing travelers through its big hubs.
The Covid-era has kept a lid on business and international travel but demand from travelers eager for a vacation, or wanting to visit friends and relatives, is rebounding.
—Leslie Josephs
A look at the myriad problems that have plagued AstraZeneca's Covid vaccine
AstraZeneca's Covid shot was heralded as "the vaccine for the world" and was accompanied by high hopes ever since its inception. But, unlike other coronavirus vaccines, the one developed by AstraZeneca and the University of Oxford has been plagued by problem after problem.

AstraZeneca's troubles started almost as soon as it published interim trial data, and have continued ever since.
The drugmaker "seems to have a real PR problem on its hands in the U.S. and in Europe," Sunaina Sinha Haldea, managing partner of Cebile Capital, told CNBC on Thursday, warning that its "public relations problem risks undermining confidence in the vaccine outside of the U.K."

Check out CNBC's timeline of all the problems that have struck AstraZeneca in the past year.
—Holly Ellyatt
Weekly jobless claims tumble to pandemic-era low
Weekly jobless claims came in considerably lower than expected as the U.S. employment market shows signs of a stronger recovery.
First-time claims for state unemployment insurance totaled 684,000 for the week ended March 20, down from 781,000 the previous week and better than the 735,000 Dow Jones estimate.
That marked a couple of milestones for the jobs picture: It was the first time claims were below 700,000 during the Covid-19 era and the first time the level was below the pre-pandemic high dating back to October 1982.
While the layoff level is still well above the average before the coronavirus struck, continuing claims also fell again, to a new pandemic-era low of 3.87 million.
—Jeff Cox
Lowe's, Home Depot seek to stretch pandemic gains into spring
As home improvement's busiest sales season begins, Lowe's and Home Depot want to stretch their pandemic gains into the spring. Both retailers have extended their sales events and plan to cater to customers who are using their homes in different ways.
Lowe's has added a wider variety of merchandise on its website, from tents and cocktail shakers to exercise bikes. It's also encouraging customers to tackle DIY projects or decorate rooms — or the backyard — for a "hometrip" as they put off travel plans.
The two retailers have had strong, pandemic-fueled runs, but have cautioned that they may not be able to keep up the pace of growth. Home Depot declined to provide a forecast for the year. Lowe's said its net sales for the year will likely decline by 5% to 7%, even in a favorable market.
Both retailers' shares have touched all-time highs this week. Along with pandemic trends, they have a hot real estate market and the growth of remote work in their favor for now, too.
—Melissa Repko
EU and Britain try to broker a vaccine supply deal
Shortly after European Union officials announced stricter rules on Covid vaccine exports, the bloc is trying to resolve a dispute over vaccine supplies with the U.K., reports CNBC's Silvia Amaro.
Since the end of January, more than 10 million doses produced in the EU have gone to the U.K., but the U.K. had exported none in return, the EU has complained.
"We are all facing the same pandemic and the third wave makes cooperation between the EU and UK even more important. We have been discussing what more we can do to ensure a reciprocally beneficial relationship between the UK and EU on Covid-19," the U.K. government and the European Commission said in a joint statement on Wednesday.
"Given our interdependencies, we are working on specific steps we can take — in the short-, medium- and long term — to create a win-win situation and expand vaccine supply for all our citizens," the U.K. and EU said, adding that talks would continue.
—Melodie Warner 
Read CNBC's previous live coverage here:
Covid updates: JetBlue brings back more flight attendants; CDC says contagious variants are fueling new cases
Copyright CNBCs - CNBC