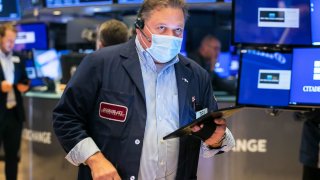 The 10-year U.S. Treasury yield fell slightly in a volatile session on Wednesday as the recent selling pressure for bonds cooled.
The yield on the benchmark 10-year Treasury note was down about 1 basis point to 1.527% in late afternoon trading after dipping below 1.5% on Wednesday morning and rising above 1.54% later in the day. The yield on the 30-year Treasury bond rose less than 1 basis point to 2.075%. Yields move inversely to prices and 1 basis point is equal to 0.01%.
The afternoon swing higher for bonds came after Federal Reserve Chairman Jerome Powell said at a European Central Bank event that supply chain issues could cause inflation to last longer than the Fed had previously thought.
"It's very difficult to say how big the effects will be in the meantime or how long they will last. We do expect we will get through that," Powell said.
"I think we're turning to the process of normalization in a careful way and I like to think that's the right way to do it," he added.
The 10-year yield topped 1.56% on Tuesday, hitting its highest point since June, as investors bet the Federal Reserve would soon start to remove some stimulus as inflation persists. The turnaround in yields has been speedy, with the yield as low as 1.29% just last week. As rates spiked on Tuesday, equity markets fell with the Nasdaq Composite posting its worst day since March.
Many strategists expect Treasury yields to be choppy in the near term but to rise even further by the end of the year.
"We think there is room for rates to move higher and forecast the 10-year US Treasury yield to reach 1.8% by the end of the year. As well as the Fed's more hawkish tone at last week's FOMC, other central banks are tightening or talking about tightening. In addition, the run down of the US Treasury General Account has finished, taking downward pressure off long-term rates," Mark Haefele, chief investment officer at UBS Global Wealth Management, said in a note.
Rising energy prices in Europe is also likely adding to investor concerns over inflationary pressures.
The National Association of Realtors said Wednesday that the number of home sales pending in August rose 8.1%, well above the 1.2% consensus from a Dow Jones survey of economists.
An auction was held on Wednesday for $30 billion worth of 119-day bills.
-CNBC's Jeff Cox contributed to this report.
Copyright CNBCs - CNBC