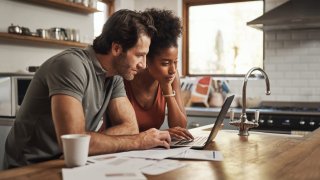 Most renters don't negotiate lower rent prices when their lease is up for renewal, even though it works 25% of the time, a recent survey finds.
With the rental market cooling, the success rate for haggling cheaper rent has risen from 17% in October 2022 to just over 25% as of April 2023, according to Avail, a platform for do-it-yourself landlords and tenants.
However, only 28% of those surveyed said they negotiated the price on their most recent lease renewal.
"Renters certainly have more leverage now," says Jon Leckie, a data researcher for Rent.com, a rental listings site. "With more inventory and less demand, landlords have to compete for tenants more than they did just a few months ago."
Rent price growth has stabilized in recent months, with median rent in the 50 most populous U.S. cities hovering at about $2,000 per month since late 2022, after surging by about $300 throughout 2021 and 2022, according to Redfin price data. Slowing rent growth has, in turn, made it harder for landlords to raise prices, says Leckie.
"It's a great time to try to negotiate rent if you can," says Leckie. "But people have been conditioned to the idea that, 'Oh no, rents are crazy, landlords can just charge whatever they want.' I don't think that's the case anymore."
Plus, negotiating can lead to other benefits if a landlord refuses to lower the price. This can include other concessions, like repairs or upgraded amenities.
To try it for yourself, check out five tips for negotiating your rent from real estate experts.
1. Research rent prices in your neighborhood
Check local rental listing sites to confirm rent prices for similar units in your neighborhood. If you're paying more than you would for a similar unit, you'll have a convincing, fact-based argument for a fair price based on local rental market rates.
2. Leverage your rental history
Landlords favor renters who keep their units in good shape and have a long history of on-time rent payments. If you've been with the same landlord for a long time, it's reasonable to ask for a discount.
Likewise, when negotiating a lease with a new landlord, offer references from previous landlords to make the case that you're a reliable renter. 
3. Propose a longer, discounted lease
If you're happy with your unit and don't expect to move soon, consider proposing a longer lease, such as two years instead of one. In exchange for the commitment, ask your landlord for a discounted rate on your monthly rent.
Plus, by locking in a fixed rate over two years, you can ensure your rent won't increase with inflation for the remainder of your lease.
4. Take advantage of seasonal pricing
Try to sign new rental leases in December or January, which is the peak off-season for the rental market. That's because the rental market is seasonal, so rent prices fluctuate depending on the demand and time of year. When there's less demand, prices tend to drop.
5. Negotiate other perks
If your landlord is reluctant to lower your monthly cost, you can propose other concessions, such as overdue repairs or upgrades to your unit's amenities, like having the walls painted.
You could also suggest other expenses be waived, such as the cost of utilities or fees for extra storage space.
DON'T MISS: Want to be smarter and more successful with your money, work & life? Sign up for our new newsletter!
Get CNBC's free report, 11 Ways to Tell if We're in a Recession, where Kelly Evans reviews the top indicators that a recession is coming or has already begun.
Check out: These 5 charts show how much 2 years of inflation have really cost you
Copyright CNBCs - CNBC