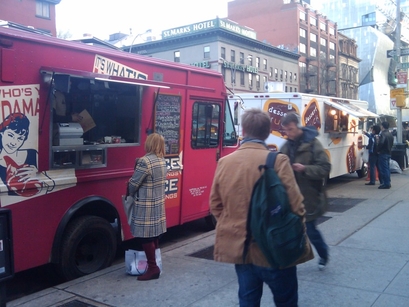 Some of Gotham's popular food trucks have discovered that while it's great to drive around and dodge tickets and all, what would really be wonderful is to have a brick-and-mortar shop. So it is that first the Desert Truck and now the Cupcake Stop, which has been rolling around since May, are pulling reverse-Rickshaws and going from truck to table.

Cupcake Stop owner Lev Ekster told Crain's New York that the truck isn't going anywhere (figuratively), pointing out that it doubles as an advertisement but that he is negotiating a lease on a Cupcake Stop store in the East Village, for which he'll pay five times what he does to rent the commercial kitchen he currently uses.

"It's a trade off, but I see this as a long-term business," he told Crain's.
When Vinny Vincenz's truck saw a mouse (okay a bunch of pizza-chomping rats) in Chelsea, few people cried foul, but it's not just mobile food slingers that have rodent problems. Just this weekend Junior's apparently staged its very own sequel to "Ratatouille."
Copyright FREEL - NBC Local Media