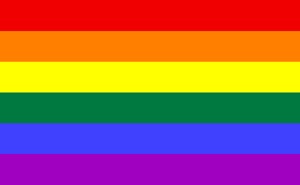 Moved by a recent spate of suicides by teens who were believed to be victims of anti-gay bullying, members of the theater community have lent their support with what they do best: messages from the heart and an uplifting song.

"It has taken off like wildfire," said Chris Nichols, a talent agent with Kerin-Goldberg Associates, who has been helping spearhead the campaign. "Everybody jumped at the opportunity to get involved."

The recent suicides of several teenagers have sparked activists into action both online and off. The victims include a 13-year-old California boy, and an 18-year-old Rutgers University freshman who jumped off the George Washington Bridge after his sexual encounter was secretly streamed online, allegedly by his roommate.

Their deaths and others helped invigorate a drive to deliver support with videos of successful gay adults telling their stories of survival, as well as a viral Facebook campaign asking Americans to wear purple Wednesday in solidarity. The campaigns have hit especially close to home to many in the theater community.

Some 40 heartfelt video testimonials from Broadway actors who recall being bullied or called names — including performers from "Spring Awakening," ''Wicked," ''Rock of Ages" ''Chicago" and "Memphis" — as well as the touring casts of "Billy Elliot," ''Wicked" and "Jersey Boys" — have been collected as part of the It Gets Better: Broadway project.

"I was called names all the time and bullied," says one message from Derek St. Pierre of "Rock of Ages." Another, from Ben Gettinger of "Mamma Mia," says: "For those of you out there who feel alone and feel like there's no one to turn to, there's a community of people that care about you, that love you, that want you to be around for a long time."

The New York theatrical community also has produced an original "We Are the World"-type anthem with singers who have appeared in "American Idiot," ''Tarzan," ''Cats," ''Ragtime," ''Avenue Q," ''Legally Blonde" and "Hairspray," among others. The song, written by stage producers Jay Kuo and Blair Shepard, includes the lines: "Don't give up/'Cause your life is like a book/All you have to do is turn the page."

The push, started in large part by syndicated relationship and sex advice columnist Dan Savage, is now part of a nationwide effort by various organizations — including The Trevor Project and The Gay and Lesbian Alliance Against Defamation — to put a spotlight on anti-gay bullying.

Several high-profile videos have surfaced, including one of a Fort Worth, Texas, city councilman who at a meeting tearfully recounted facing his own bullies and demons as a teenager. Secretary of State Hillary Rodham Clinton on Wednesday added her voice to the campaigns in a videotaped message, denouncing bigotry and hatred.

For many in the theatrical community, anti-gay slurs and harassment are all too common. Many actors, singers and dancers were ridiculed for loving the stage and know well the cruelty of bullies.

"I was one of those kids," says Raymond J. Lee, who appeared on Broadway in "Mamma Mia" and who said he attempted suicide as a gay teenager. "When I heard about all these kids, it was so important for me to let them know that it gets better. I was in their shoes. I know what it's like to get to that point where you want to end your life because it doesn't seem hopeful."

Lee, who will be in the upcoming Broadway production of "Anything Goes," teamed up with Nichols and Robbi Kearns, an independent producer, to wrangle actors and donated studio time for the video testimonials.

"Broadway and the theatrical community has become a refuge for kids who were bullied and tortured. I know I was," Nichols says. "When I think of what spurred me to act initially was I just couldn't bear the thought of another kid jumping off the George Washington Bridge because he was gay. For me, theater is what got me through."
Copyright AP - Associated Press