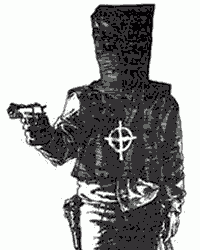 The notorious Zodiac killer terrorized Bay Area more than 30 years ago, killing at least eight people and grabbing headlines with his letters to local newspapers and police. Now the FBI have in their possession clues that move prove the mad man's identity once and for all.
"The identity of the Zodiac Killer is Jack Tarrance. He's my stepfather," Dennis Kaufmantold Kris Pickel of CBS 13 in Sacramento.
Kaufman claims to have found among his deceased step-father's possessions a bloody knife, handwriting samples and the hood bearing the Zodiac Killer's notorious symbol.
There were also several rolls of film of photo of what appear "to be people who were murder," says Kaufman.
Additionally, he has a recording of a phone conversation in which Tarrance implies he is in fact the Zodiac Killer.
"If I wrote a book and said I think my stepfather is the Zodiac Killer they wouldn't believe me," says Kaufman.
"What do you mean 'think,'" replied Tarrance.