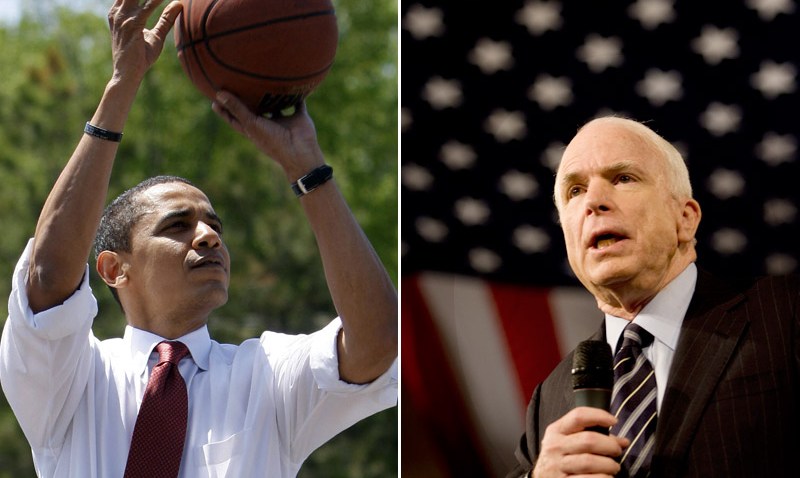 John McCain never lets you forget about his military service and Barack Obama always seems to be shooting hoops or <a href="http://starbulletin.com/2008/08/14/news/story15.html"target="_blank">bodysurfing</a> or some such thing. Yet to look at their donor lists, you might think Obama's the hawk and McCain's the jock.

Obama was sent $60,642 in contributions from 134 troops serving abroad as of June 30, says <a href="http://blogs.reuters.com/trail08/2008/08/14/american-troops-put-their-money-on-obama/"target="_blank">Center for Responsive Politics</a>. Meanwhile, McCain, a Vietnam veteran who spent more than five years in a POW camp, had received a measly $10,665 from 26 soldiers. Even Ron Paul, who has been out of the race for months, has been sent $45,512 from 99 troops.
Obama has even outpaced McCain in terms of contributions from all military personnel, $335,536, to $280,513.
"The Obama campaign has just been so much savvier with Web-based donors. It may be a logistical question," says University of California political science professor Aaron Belkin.
On the flip side, owners of teams in the four major sports leagues and their families have put more than $3.2 million in McCain's campaign coffers, according to <a href="http://www.politico.com/news/stories/0808/12548.html"target="_blank">Politico.com's analysis of Federal Election Commission data</a>. This is more than five times the $615,000 the same folks have put towards Obama's war chest.
"Today, a guy who owns a sport team is somebody who has generated a big pile of money in some other industry, and it's very likely that their primordial financial interests and instincts are rooted in that other industry," said Andrew Zimbalist, a professor at Smith College who has written extensively about the economics of sport.
The McCain campaign announced on Friday that it had just enjoyed its biggest month of contributions, taking in $27 million in July, <a href="http://firstread.msnbc.msn.com/archive/2008/08/15/1268322.aspx"target="_blank">reports MSNBC's Domenico Montanaro</a>. Coupled with the $71.7 million the Republican National Committee has raised, McCain now has $96.4 million to Obama's $76.2 million. Obama's deficit is due to the meager fund raising efforts of the Democratic National Committee, which has only netted $4.5 million.