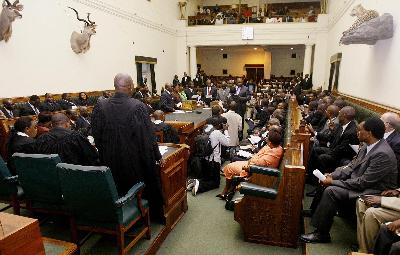 When Zimbabwe president Robert Mugabe ceremonially opened a legislative session of his country's parliament this week he was met with an unfamiliar audience: boldly defiant politicians willing to publicly boo and jeer him.
The televised act of opposition could be a turning point for a country that has suffered bitterly under Mugabe's tyrannical rule. Mugabe is no stranger to jailing or killing opposition political leaders as he turned the country's economy and society into one of Africa's biggest basket cases. The opposition now has a majority in Zimbabwe's parliament, however, following an election that was tainted with corruption.
Mugabe has ruled the country with an iron fist for 28 years since Zimbabwe gained its independence. Initially hailed as a national liberator, the president's reputation has steadily declined over the years as economic, political, and social repression grew.
The Times of London viewed parliament's bold defiance of Mugabe as a "Ceausescu moment" for the nation, referring to the rapid overthrow and execution of Romania's long-time dictator and his wife.