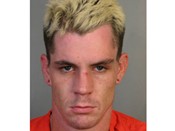 At least four people -- some of whom have ties to white supremacist groups -- were arrested in connection to a possible plot to kill Barack Obama during his acceptance speech on Thursday night, authorities said yesterday.
The arrests came just hours before the Democratic National Convention kicked off in Denver Monday night amid heightened security surrounding the convention.
One of the suspects told authorities that they were "going to shoot Obama from a high vantage point using ... a rifle ... sighted at 750 yards," sources told CBS4.
When asked whether he came to Denver to kill Obama, a second suspect answered "in the affirmative.".
The plot unraveled when Aurora police arrested Tharin Gartrell, 28, for driving a pick-up truck erratically. Police found two high-powered, scoped rifles in the truck and a bullet-proof vest, camouflage clothing, walkie-talkies, a spotting scope, licenses in the names of other people and methamphetamine.
Local authorities contacted federal officials because of increased security in the area.
"Clearly we found there are federal implications -- otherwise we would not have notified them," Det. Marcus Dudley of the Aurora police said. "The weapons clearly would cause great concern."
But officials are downplaying the arrests, saying that one of the men who was arrested made a threat against Obama in passing and that there was no assassination plan in place, sources told NBC's 9News.
The FBI is investigating but the suspects are not considered to pose a serious threat to Obama, officials said.
"We're absolutely confident there is no credible threat to the candidate, the Democratic Convention or the people of Colorado," U.S. Attorney Troy Eid said in a statement.
When 33-year-old Shawn Robert Adolph, an associate of Gartell, was approached by authorities at the Cherry Creek Hotel he jumped from the sixth floor of a hotel room and broke his ankle only to be arrested minutes later. He was wearing a swastika ring.
A third man, 32-year-old Nathan Johnson, who told authorities that Gartrell and Adoplh "planned to kill Barack Obama at his acceptance speech" was also arrested along with his girlfriend.
All four are being held on either weapons or drug charges.