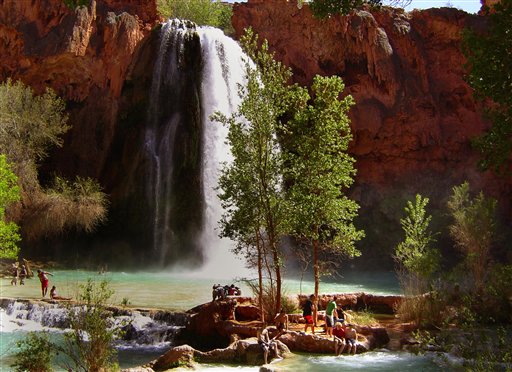 Eleven hikers who were missing and feared dead after flooding struck a remote part of the Grand Canyon were accounted for Tuesday, authorities said.
Eleven people from two families were located, but Coconino County Sheriff's Department spokesman Gerry Blair couldn't immediately say how or where they had been found.
Authorities were still getting calls from people who believe their loved ones may be in the canyon. They plan to check the hiking trails and surrounding gorges by helicopter and foot when the water recedes.
Helicopters ferried about 255 people out of the canyon Sunday and Monday after extremely strong thunderstorms soaked the area and caused creeks to swell.
On Monday, helicopters took turns ferrying 85 people out of Supai, about 2,300 feet below the Grand Canyon rim. Rescuers transported another 170 people out of Supai Canyon on Sunday.
Supai, about 30 miles west of Grand Canyon Village, is extremely remote. It's an 8-mile hike from the nearest parking lot, dropping straight down on a winding canyon trail.
The village itself includes homes, a K-8 school, a post office, a cafe, clinic and a store. It sits in a region that's popular for hikers and river runners, with towering blue-green waterfalls. About 400 people live there year-round.
Supai and the surrounding area got soaked over the weekend as thunderstorms dumped 3 to 6 inches of rain Friday and Saturday in northern Arizona and about 2 inches more on Sunday.
Arizona Gov. Janet Napolitano toured the flooded area by air Monday. The governor told reporters the most important task was to restore a pack trail that is a main path for delivering mail, food and other supplies to villagers at Supai.
Village residents asked for extra supplies Monday, but Blair said authorities weren't sure yet what to deliver. It's unclear how much Supai will need since many residents are choosing to leave the village, and authorities don't know how long it will take to reopen hiking trails to the public.