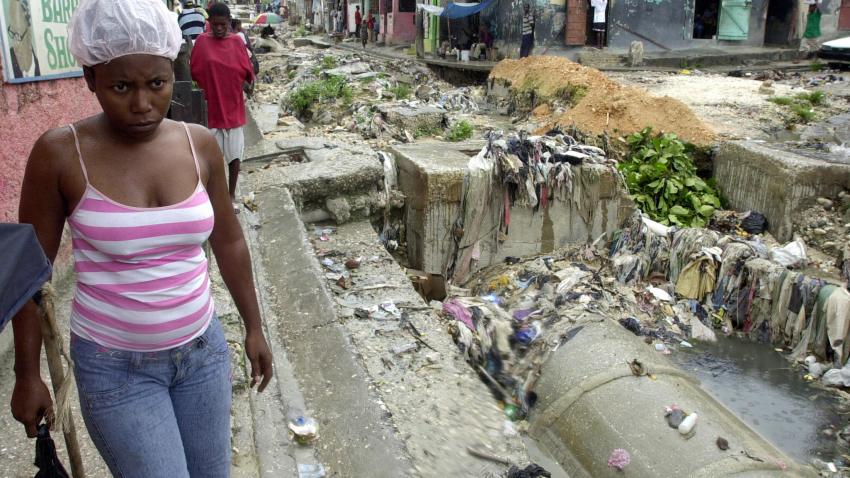 Date: 8/27/2008 5:10 AM
BC-Tropical Weather,1st Ld-Writethru/810
Eds: UPDATES with storm stalling over Haiti, watches and warnings. Next advisory expected at 8 a.m. EDT.
Gustav weakens but could become hurricane again
By JONATHAN M. KATZ
Associated Press Writer
PORT-AU-PRINCE, Haiti (AP) _ Tropical Storm Gustav stalled in the Caribbean early Wednesday a day after hitting Haiti as a hurricane.
But the National Hurricane Center in Miami said the storm could regain hurricane strength later in the day or on Thursday once it moves away from Haiti.
As of 5 a.m. EDT Wednesday, Gustav's maximum sustained winds were near 60 mph (95 kph) with higher gusts. The storm was centered about 80 miles (125 kilometers) west of Port-au-Prince. The storm had not moved much during the last few hours, the hurricane center said. But it was expected to continue moving toward the west-northwest.
Jamaica issued a tropical storm warning Wednesday and also remained under a hurricane watch along with the Cayman Islands. A watch means hurricane conditions are possible within 36 hours.
A hurricane warning was in effect for parts of Cuba including the U.S. military base at Guantanamo Bay. A warning means hurricane conditions are expected within 24 hours.
As a hurricane, Gustav caused a killer landslide and dumped torrential rains on southern Haiti on Tuesday before weakening to a tropical storm.
Rising water threatened Haiti's crops amid protests over high food prices, and oil prices rose on fears the storm could batter oil rigs in the Gulf of Mexico.
The storm lingered into the night over Haiti's poor, deforested southern peninsula, and water levels were rising in banana, bean and vegetable fields. One man was killed in a landslide in the mountain town of Benet, civil protection director Marie Alta Jean-Baptiste told Radio Metropole.
Cars pushed through standing water in the streets of Port-au-Prince, as fallen trees and landslides blocked a major road out of the capital.
Hundreds of people in coastal Les Cayes ignored government warnings to seek shelter, instead throwing rocks to protest the high cost of living in the Western Hemisphere's poorest country. Witnesses said U.N. peacekeepers used tear gas to disperse the crowd.
Haiti is a tinderbox because of soaring food prices, which in April led to deadly protests and the ouster of the nation's prime minister. It was difficult to ascertain the extent of the damage from the hurricane to the nation's crops on Tuesday because of Haiti's poor infrastructure and faulty communications.
"If the rain continues, we'll be flooded," U.N. food consultant Jean Gardy said Tuesday from the southeastern town of Marigot.
Forecasters said Gustav could become a Category 2 hurricane with winds topping 96 mph (154 kph) Thursday as it moves between Cuba and Jamaica.
After Haiti, a strengthening Gustav was projected to sideswipe Cuba's southern coastline all week before entering the central gulf on Sunday.
Forecasters were reluctant to predict the storm's path beyond the weekend, the third anniversary of Hurricane Katrina.
Thunderstorms associated with Gustav were already bringing downpours to some parts of eastern Cuba late Tuesday night. In Houlgin province, communist officials evacuated residents from low-lying areas and set up shelters and emergency food distribution centers in schools and municipal buildings.
Forecasters said the U.S. military base at Guantanamo Bay, Cuba, would be spared a direct hit. Base spokesman Bruce Lloyd said the base was preparing for emergencies in any case.
A powerful storm in the Gulf of Mexico could force shutdowns on the offshore rigs that account for a quarter of U.S. crude production and much of its natural gas. Royal Dutch Shell PLC said it could begin evacuating workers as soon as Wednesday.
The price of light, sweet crude for October delivery ended Tuesday up US$1.16 to settle at US$116.27 a barrel on the New York Mercantile Exchange after the forecasters said Gustav could enter the gulf as a major hurricane this weekend.
If the storm continues on its path, it could drive up U.S. gasoline prices by 10 cents a gallon ahead of Labor Day weekend, predicted James Cordier, president of Tampa, Florida-based Liberty Trading Group and OptionSellers.com.
Gustav roared ashore on Haiti on Tuesday afternoon near the city of Jacmel with top sustained winds near 90 mph (145 kph). Heavy rains pelted the area as winds bent palm trees and kicked up surf along waterfronts of dilapidated wooden buildings.
Stranded travelers mobbed the American Airlines counter at the airport after the airline canceled all flights.
"I knew it was coming, but I was hoping to be out before it came," said Jody Stoltzfus, a 27-year-old missionary who had planned a visit home to Lancaster, Pennsylvania.
In Cuba, Fidel Castro issued an essay that mentioned the hurricane, saying Cuba's government "guarantees no one will be forgotten."
Copyright 2008 The Associated Press.
Summary
Date:8/27/2008 5:10 AM
Slug:BC-Tropical Weather,1st Ld-Writethru
Headline:Gustav weakens but could become hurricane again
Byline:By JONATHAN M. KATZ
Byline Title:Associated Press Writer
Copyright Holder:AP
Priority:r (4)
With Photo:
Dateline:PORT-AU-PRINCE, Haiti
Lead
Editors' Note:Eds: UPDATES with storm stalling over Haiti, watches and warnings. Next advisory expected at 8 a.m. EDT.
Word Count:810
File Name (Transref):d6942 NY2C GFX664
Editorial Type:Lead
AP Category:n
Format:bx