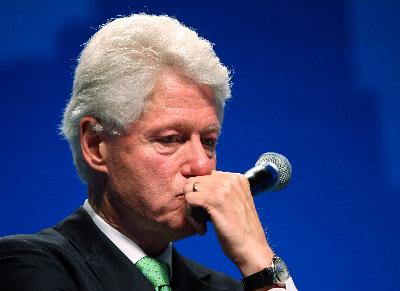 Just hours before his wife is set to address the Democratic National Convention, Bill Clinton made public remarks that seemed to call into question the electability of Sen. Barack Obama.
The former President was speaking to a group of reporters this morning when he posed a hypothetical situation that was suspiciously similar to a situation involving Sen. Obama and Sen. Hillary Clinton. "Suppose you're a voter, and you've got candidate X and candidate Y. Candidate X agrees with you on everything, but you don't think that candidate can deliver on anything at all. Candidate Y you agree with on about half the issues, but he can deliver. Which candidate are you going to vote for?"
Perhaps sensing that his remark could be construed as a rhetorical stab in the back by anyone who paid any amount of attention to the epic primary battle between Sens. Obama and Clinton, the man from Hope quickly attempted to backtrack. "This has nothing to do with what's going on now," he said according to The Hill.
President Clinton is scheduled to address the convention tomorrow evening, although many Democrats are concerned that he may continue to denigrate the party's nominee.