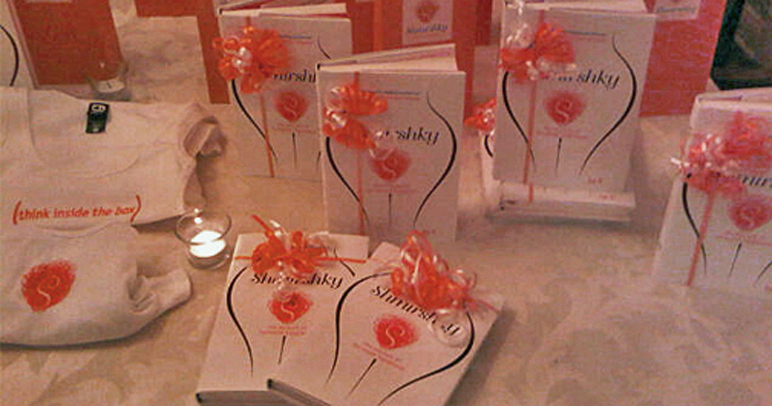 A party is usually not associated with menopause. Yet, Ellen Sarver Dolgen is encouraging women to meet and share their perimenopause and menopause experiences – which she calls PM&M – at a Shmirshky party.
'It's my version of an old-fashioned Tupperware party," said Dolgen, whose motto is "reaching out is IN. Suffering in silence is OUT."
"When we share, we become better advocates for ourselves," she said. "You can find hormone happiness if you find the right people; a PM&M specialist to help you."

Founder and President of Shmirshky Universal Dolgen teaches how to throw a Shmirshky party online and in her book "Shmirshky: the pursuit of hormone happiness."

She recommends icebreaker questions, including:
Are you sexless in the city?
Do you pretend you're "fine," when you feel like a complete mess?
Who prepared you for perimenopause and menopause?
"When women leave the party, they have a tremendous support system," said Dolgen, who wishes she had this support 10 years ago when she was hit with perimenopause in her 40s.
Dolgen said she was completely unprepared. "I couldn't sleep; couldn't finish a thought in mid-sentence. I had emotional highs and lows," she said
But her first hot flash was perhaps her most embarrassing moment.

At a business meeting, "I got up from my seat and my pants were wet. I was mortified. I had no idea what was going on. I was in a little bit of denial. I couldn't imagine going into menopause so soon."

Eventually Dolgen learned that "perimenapause or menopausal transition happens when you're very young, 38-48 - symptoms start six to eight years before menopause," she said. "It really has nothing to do with age."

According to the U.S. Department of Health, the average age at which women experience menopause (or when a woman's menstrual period stops) is 51, though menapause can occur as early as 40 or as late as 55.
"I suffered and you don't need to suffer," said Dolgen.
PM&M Symptoms
Many women don't realize they have PM&M.

Typical menopause symptoms include hot flashes, night sweats and mood swings, report the U.S. Health Department.

"Trust how you feel, you know when you don't feel good," said Dolgen.

To help women track PM&M signs, there is a chart with 34 symptoms in "Shmirshky: the pursuit of hormone happiness."

"It [the chart] really helps communicate to your specialist how you feel and get the individualized care that you need," said Dolgen.