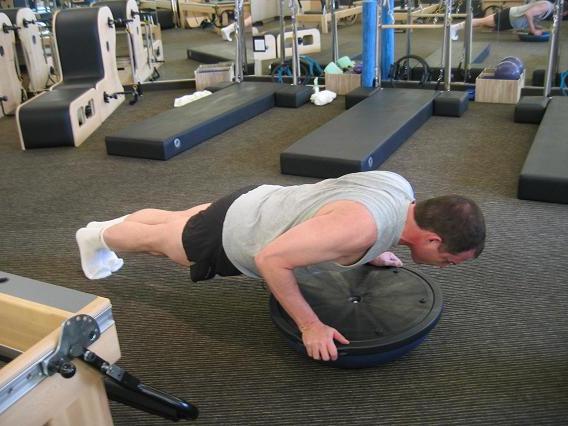 Few things can spark and sustain a good workout the way music can, and those playlist preferences offer a compelling view of the listener's personality. This week, we get a peek at the workout playlist of New York Times magazine writer Frank Bruni:
All my life I've had an enormous appetite and loved food a bit too much, and all my life I've fought the wages of that. Exercise is my main weapon in the battle.
I try to run a few times a week, and to hit the gym another two days. I don't work out every single day, and I could be in much better shape. But at least three and usually four times a week, I work up a sweat: on a footpath in Central or Riverside parks; on a treadmill; at the Training Ground, a private training center on West 72nd Street, just two blocks from my apartment, where I've been using the same trainer, Andrew Ginsburg, for about two years. I feel I get much more done in an hour with him than I would in 90 minutes or even two hours on my own. It helps me enormously to have someone egging me on, revving me up, making sure I don't cadge five minutes at the water fountain after every three minutes of exertion. I'm a pitiably slothful sort deep inside.
Because Andrew's a total mensch and because I'm something of a veteran at the Training Ground, I enjoy iPod playlist rights, and am constantly making song mixes that I hope will keep me diverted, happy, motivated. Here's one I've played a few times recently. It goes for 66 minutes, so if Andrew and I exceed an hour, the music doesn't stop.
"Islands," The xx. I love the xx, and this song, slinky and with a medium tempo, allows the pace of things to build.

"Youth Knows No Pain," Lykke Li. She's a favorite, and this has an anthemic quality that's rousing.

"Over the Hills and Far Away," Led Zeppelin. Just a great, great song that makes me smile, even during a hammer curl or a dip.

"Crazy," Seal. Peppy in the right way.

"Burial," Miike Snow. This song is just pure, crazy-delicious ear candy. You can't feel tired or grumpy when it's on.

"Superhero," Garrison Starr. Same as above.

"White Wedding," Billy Idol. It just works. Don't ask me why.

"Edge of Seventeen," Stevie Nicks. Probably the only song of hers that has a pulse-pounding aspect. Propulsive. Motivating. And a great song.

"The Ghost Inside," Broken Bells. There's a repurposed-disco underbelly to this. Amusing. Uplifting.

"Push It," Garbage. I probably put more Garbage than anything else on gym and running play lists. They just totally do it for me.

"When I Grow Up," Garbage. Case in point.

"(Don't Fear) the Reaper," Blue Oyster Cult. Can't leave Zeppelin holding down the classic rock fort on its own.

"Polyester Bride," Liz Phair. One of my favorite cuts from my favorite album of hers (WhiteChocolateSpaceEgg).

"Amazing," George Michael. I can't explain. I won't try.

"Left Outside Alone," Anastacia. This and she never hit in the U.S. the way they did in Europe, where I was living when I discovered them. A great, grinding, heart-jolting, excellent workout song.

"Heart of Stone," The Raveonettes. More ear candy, and something slower for the wind-down of the workout.



Frank Bruni, a staff writer for the New York Times magazine, was the newspaper's restaurant critic for more than five years, from June 2004 to August 2009, and contributes an every-other-week column on the drinking life, "The Tipsy Diaries," to the newspaper's Weekend section. He has also been the newspaper's Rome Bureau Chief and a White House correspondent. He is the author of several best sellers, including, most recently, a memoir about his odd relationship with food over time, "Born Round: a Story of Family, Food and a Ferocious Appetite." He is 46 and lives on the Upper West Side of Manhattan.