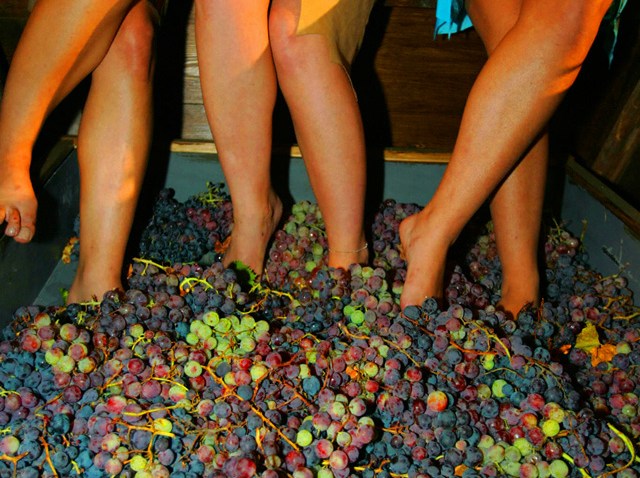 When discussing a bottle of wine, there are plenty of things one could describe : the terroir, the vintage, the method of crushing or fermenting or the kind of barrel used for aging. But Women of Wine Week -- kicking off Monday night at the City Winery -- is all about celebrating the winemaker -- specifically women winemakers.
Although, according to Lisa Granik, Master of Wine, who will be hosting a celebration of legendary winemaker Helen Turley on Friday, "women winemakers today want to be known as winemakers rather than women winemakers." But Granik does acknowledge that some of the old adage is true: women tend to be more sensitive to finesse, delicacy and balance -- all things that are difficult to achieve and crucial to making good wine.

The six-day festival brings together some of the top winemakers, importers and sommeliers from around the world for tastings and pairings that focus on the women behind the vintages. For Wednesday's Women of Wine World Tour, Mollie Battenhouse -- a former chef who has spent the last eight years acquiring just about every prestigious title offered in the wine industry and now runs Maslow 6, an innovative wine store in Tribeca -- has selected ten wines from both hemispheres and four continents, a collection she calls "inspiring."

But when asked about the wines she chose, Battenhouse is more interested in talking about the personality traits of each wine's maker -- many of whom will actually be there as you swirl, sniff and sip their creations -- than any citrusy notes or earthy undertones. She describes Isabel Ferrando, for example, from the much-in-demand Chateauneuf-du-Pape, as "fabulous, down to earth and approachable" (fittingly, Parker's describes her wines as sumptuously rich and full-bodied but also soft and fruity). Battenhouse similarly praises Sybil Kuntz, who started her namesake Estate 20 years ago, for taking "down to earth" literally, growing her acclaimed Riesling biodynamically based on her belief that "wine is made in the vineyard not in the winery." And then there is Cathy Corison, who, according to Battenhouse, is as committed to "making Napa a better place to live" as she is on making great wine.

Granik, too, when asked about what makes Helen Turley's wines so distinct, describes them as an extension of their maker. "These wines have something to say." Turley, who Granik describes as "not a small woman" makes "big wines" with "strong personality" that are "not for the shy." Granik has chosen wines from Turley Wine Cellars that were made in Turley's style, which is to say with meticulous care, and come from the Pesenti vineyard in Paso Robles. She intends to compare different vintages as well as how Zinfandel "expresses itself differently" when grown on the mountainside versus the valley floor, with its rich, minerally soil.

Battenhouse says she excited about the lady-intensive lineup because women drink more wine than men, for starters, and because, well, they talk more. "Women are willing to ask more questions than men at tastings," she says. Expect to do plenty of both all week at the Winery.
For details and to buy tickets, go here.
Copyright FREEL - NBC Local Media