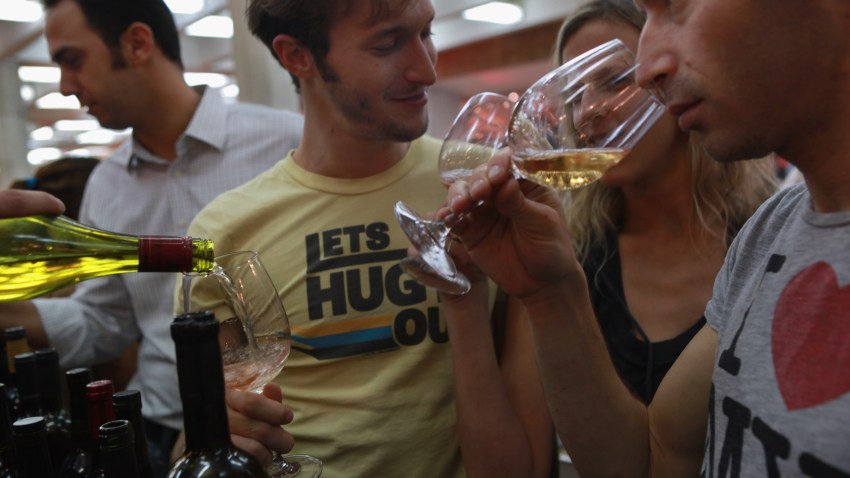 Brevity may be the soul of wit, but it's something of a foreign concept to wine aficionados -- who have been known to generate volumes on a single grape. Wine snob, meet Twitter. And leave it to the split music venue/winery City Winery to razz the traditional wine tasting. This Sunday, the City Winery in Tribeca is hosting a wine tasting and social media extravaganza: the Spit & Twit.

WineTwits, a community of wine lovers connected by the power of the Tweet, are coming together in the physical world to taste 100 wines from 35 wineries and are inviting twitterers of all kinds to join their techy whino elite. Typically vinophiles jot down their notes on a wine in a Moleskin or wine journal or some other musty, so-analog-it-hurts mode of record keeping.
At the Spit & Twit they'll be furiously pounding their touch screens and Qwerty keyboards to broadcast every fortified jammy oaky balance acid-toned minerality with legs and dry mouthfeel. The Twitter feed is organized by wine type, varietal, region and pairings, making it easy to search for the wines that interest you the most, and users can even rate the wines they try using "+" (didn't enjoy) to "+++++" (extraordinary). There is also a byzantine system of hashtags (you know, because they have to make Twitter complicated), but you'll be safe if you stick to #stw@winetwits for the duration.
Replying to a message turns the stream into a conversation and gives wine geeks the opportunity to argue about such important matters as tannins, acidity and whether that bottle of Sancerre has a nose that is more "hay" or "grass." The remarkable thing is how wine lovers, known for their verbosity, are able to keep any thought under 140 characters.
Though
gastrohipsters
will surely abound, the novice need not be intimidated. If you think the wine tastes like grapes, feel free to say so, say the organiziers. (And then hope that your inane comment gets lost in the twittersphere.)
Copyright FREEL - NBC Local Media