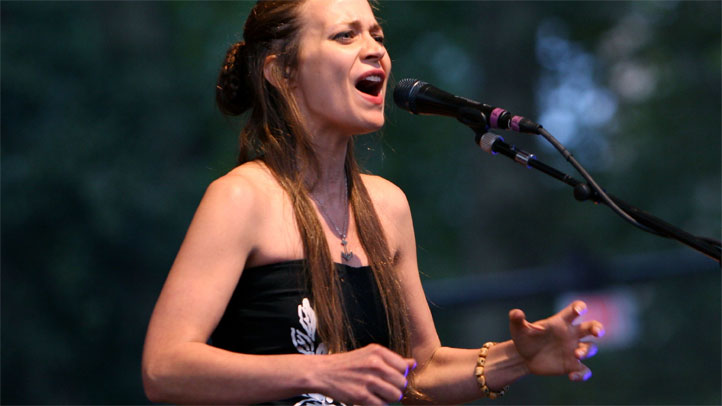 Field Day. All Points West. Music To Know. Escape To New York.
The New York summer concert season is littered with the bones of music festivals that wanted badly to be the East Coast answer to Coachella or Bonnaroo, and were sometimes produced by the companies responsible for those institutions, but none of them were ever able to establish a beachhead in the market.
It's too soon to say if the Governors Ball -- which was held on Randall's Island last weekend after debuting last year with a dance-music heavy line-up at Governor's Island -- will succeed where past festivals failed, but it's worth looking at what the organizers of the event did correctly and what they will need to work on if they want to come back for a third year.
1. All Points West debuted strongly in 2008 by anchoring their line-up to the only New York-area shows that Radiohead would play that year. It made the festival a must-see event for fans. In 2009 the festival returned with a line-up anchored by the Yeah Yeah Yeahs, The National, Vampire Weekend, The Gaslight Anthem, Tool, Jay-Z and Coldplay, amongst others. All great draws with strong fanbases. But almost all of those acts had played New York several times in the year or two before the festival, thus decreasing the must-see feel of the event.

Governors Ball had both the first New York Beck show in four years (playing a high-energy, no-fat greatest hits set) and the second Fiona Apple show since 2006. Apple had a club gig in Brooklyn in the spring that sold out almost instantly; clearly the demand was still there. Apple delivered an astonishingly committed set, shifting back and forth between dancing joyfully around the stage and then shouting down her demons on the microphone, her body convulsing between breaths. The entire weekend was filled with solid draws on the midrange, like Passion Pit, Modest Mouse and Duck Sauce, but what set it apart where the pair of "oh they're playing?" sets. That's the sort of thing that makes traveling more than an hour to see a show worth it.
2. Recruiting local vendors like Mexique to provide replenishment was a nice touch. No one goes to a music festival for food, but that doesn't mean people want to settle for just warmed over pizza. It's the little things that make people feel like they're not being treated like dirt that keep them coming back.
3. There might not be a good way around this because of state laws, but the cordoned-off drinking areas were a major buzz kill. People were crammed in with little room to move and limited ability to see either of the stages, and had to wait in long lines to pay too much for generic, domestic beer. If we can get Mexique at these things, can't we also get Brooklyn Brewery? People don't go to music festivals to drink beer, but when they do, they don't want it to be such a headache to have a cold one when they arrive.
4. The organizers of the festival split the bill in half stylistically over the two days. One was heavy on dance and rap, the other on alternative rock. With Built To Spill, Modest Mouse, Beck and Fiona Apple playing, it largely seemed like the Sunday bill was imported from a college radio station circa 1997. The show was also organized so that there were no overlapping sets, and fans could see everyone playing. This made the festival feel more efficient but less exciting. With less overall artists playing and a strict formula at work, people were getting exactly what they wanted, but were given little opportunity to stumble in to something they weren't expecting. That sense of discovery is important to a music festival's vibe, and the organizers need to make sure they don't sacrifice it in the name of giving people what they think they want.
5. The actual festival is one thing, but the main obstacle these events have to overcome is making fans feel like getting there isn't so much of hassle that they'll just wait for their favorite acts to play a club next time they're in town. Governors Ball did an overall solid job of this, but there was room for improvement. They offered a chartered bus that picked people up and dropped them off from the Brooklyn Bowl, though tickets for that went quickly. There was a efficient, relatively quick ferry service to Randal's Island from 34 Street, but at $30 it added on to an already high ticket price. Slashing the price or making it included with the concert ticket next time would make the show seem both fan friendlier and encourage the sort of loyalty that these festival have been struggling with. Making people feel like they'll get something exciting and rare at a good price that's not too much of a hassle is what will keep people coming back. Governors Ball has some work to do in this department, but it's off to a solid start.

Here's hoping they get the extremely rare chance to work out some more of the kinks with a third go-around.