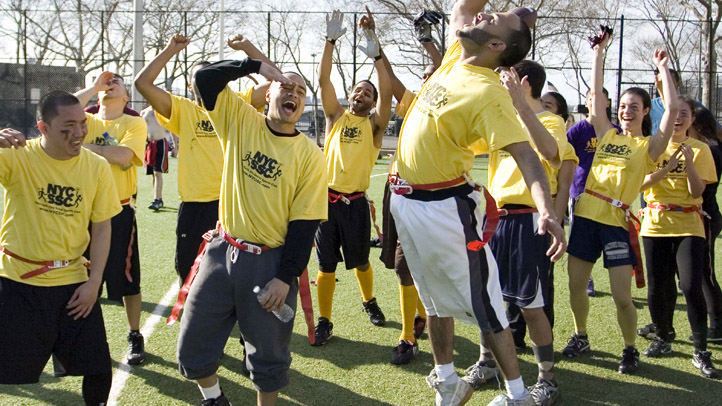 As a kid, I spent most of the day outside playing sports, riding bikes and going to the pool during the summer. Now, as an adult, I look for every opportunity to get outside as soon as the sun starts shining.
I've found that there is no shortage of outdoor activities in the city, and one popular way to get moving outside is to join a recreational sports league. Just like the sports leagues of our youth, these teams are social and fun, and provide great exercise. It's not about being a star; the vast majority of teams are playing to have fun with just a hint of healthy competition. And with team sports like kickball, whiffle ball and dodge ball being offered as popular options, having a lettered athlete on your team won't really matter, anyway.
There are recreational sports leagues to cater to just about any level of commitment, budget and athleticism. In fact, with so many options, there are a few thing you might want to consider:
Team or Individual?
While you may have trouble making friends at the gym, social sports leagues look to unite people through fitness. My friend Laura joined Zogsports because she wanted to meet new people while being active outdoors. While leagues vary, Laura, who describes her competition level as "extremely casual," was pleasantly surprised to find that they fit her needs perfectly. If you are looking to join a team individually, ZogSports and NYC Social Sports Club are great options.
Another option is to form a team with friends. This way, you have a weekly commitment to catch up and get some exercise while you're at it. Registration for summer is open at many venues, so now is a great time to start forming your roster and registering your team. Gotham City Sports offers a wide variety of options to fit any schedule, so whether you want a weekly after-work game, a hookie Friday event, or a double-header every Saturday, they've got you covered. Their leagues are co-ed and you will need at least three girls at each games (Ladies, even if you were last picked in gym class, you will be in high demand now). The registration cost will cover your uniforms, diamond reservation, bases and softballs.

Commitment Level
Most leagues' seasons are comprised of around 10 to 14 weekly games or weekly double-headers, which is pretty doable as long as you pick a league and team that fits your schedule. But if your summer is already packed with vacation plans or you almost never get out of work on time, consider registering as an alternate -- this way, you won't have to be at every game, but you may be asked to fill in when teams are short a player.
If you need even less commitment, try joining pickup games or check out MeetUp.com and type in the activity or sport of your choice. These options provide the opportunity to play as little or as much as you like. For example, Manhattan Ultimate Discs (MUD) provides several Ultimate frisbee pick-up games and locations per week, and while RSVPS are recommended, they aren't required. It doesn't get much more casual than that!

Don't forget the fun!
The excitement doesn't end on the field; a large part of the appeal of recreational sports leagues is the post-game celebration. These companies not only set up your games for you, but they provide social opportunities as well.
ZogSports has regular social events, and the winning team of each division gets to donate five percent of the leagues proceeds to the charity of their sports. NYC Social Sports Club may even take fun more seriously than sports, claiming to "rock the best post-game parties in social sports." Gotham City Sports will cover three happy hours compliments of their sponsors. Bottom line: track stars and bar stars are equally welcome in the world of recreational sports.
I've always liked individualized sports (running, skiing, swimming), but I've found that subbing and being an alternate for recreational sports leagues has been a great way to get outdoors and active in the city without being intimidated by competitive pressure. If you're looking to stay fit without sacrificing your time to have fun in the sun, head out for the team!
Melissa is a NYC resident and workout junkie. She keeps motivated to stay fit and active by trying out new workout classes, signing up for races, and keeping an eye out for a fun fitness challenge. She hopes to complete the New York City Marathon for the second time in 2011. Read more about her healthy adventures in New York City at her blog fitnessnyc.wordpress.com.