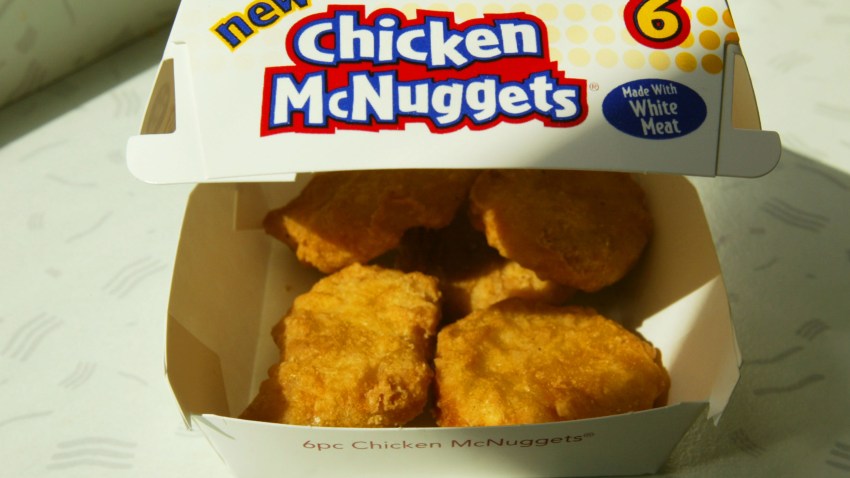 Quick, what are the top ingredients in the popular chicken nugget pieces you'll find at your nearest fast-food restaurant?
If you guessed simply white chicken meat and batter, you're missing nearly two dozen other ingredients.
Organic Authority offers this eye-opening article on the makings of a chicken nugget at McDonald's -- one ingredient, for example, is dimethylpolysiloxane, an anti-foaming agent made of silicone that is also used in Silly Putty and cosmetics
Then there's tertiary butlhydroquinone (TBHQ), a chemical preservative and a form of butane (lighter fluid).
And don't forget the thirteen other corn-derived ingredients, plus the sugars, leavening agents and other synthetic ingredients. And the meat? That's made of pulverized chicken skin and mechanically reclaimed meat.
This, by the way, is the recipe for the "healthier" Chicken McNugget launched in 2003.
No doubt it's difficult to swear off fast food when it's so accessible everywhere you go; but as Organic Authority points out, it helps to know what's actually in those fast food items. And taking other small steps -- like carrying healthy snacks or simply cooking your own chicken at home -- could eliminate the feeling you have to turn to fast food at all.
Full ingredient list for a Chicken McNugget (from McDonald's website):

White boneless chicken, water, food starch-modified, salt, seasoning (autolyzed yeast extract, salt, wheat starch, natural flavoring (botanical source), safflower oil, dextrose, citric acid, rosemary), sodium phosphates, seasoning (canola oil, mono- and diglycerides, extractives of rosemary). Battered and breaded with: water, enriched flour (bleached wheat flour, niacin, reduced iron, thiamin mononitrate, riboflavin, folic acid), yellow corn flour, food starch-modified, salt, leavening (baking soda, sodium acid pyrophosphate, sodium aluminum phosphate, monocalcium phosphate, calcium lactate), spices, wheat starch, whey, corn starch. Prepared in vegetable oil (Canola oil, corn oil, soybean oil, hydrogenated soybean oil with TBHQ and citric acid added to preserve freshness). Dimethylpolysiloxane added as an antifoaming agent.