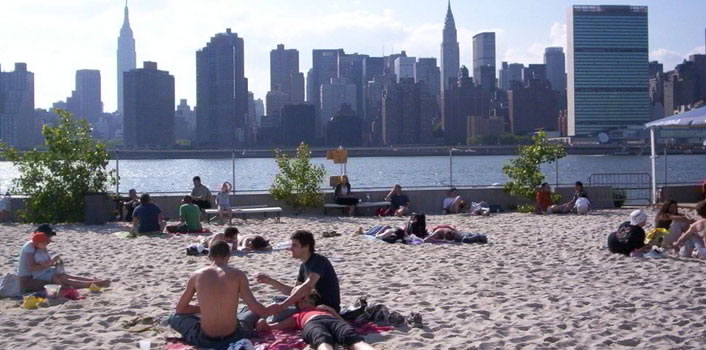 Water Taxi Beach opens its South Street Seaport location this weekend, and that's just awesome. Well, except for the fact that the beach is displacing the Spiegeltent for at least the next two years — that's kind of a bummer. But hey, it's a done deal — the sand will soon be dumped and the miniature golf course, picnic tables, Ping-Pong table, and skee-ball machines will be in place by Saturday at 10 p.m., when former Studio 54 D.J. Nick Siano will be turning the mother out. Tickets are $20, but tell them Murray sent you and you're in for $5. The preview party ends at 2 a.m., and then the beach fully opens on May 30. Hours will be 11 a.m. till 10 p.m. (till 2 a.m. on Fridays and Saturdays). Is there a corn dog on the menu? You bet there is! Or at least something closely resembling it — a tortilla-wrapped Stahl-Meyer. There may also be a fish taco. Here's the menu as it now stands.
Beer Batter Fish & Chips, Fresh Atlantic Cod or Haddock & Hand Cut Idaho Potatoes - $11.00

Wings, Fresh Jumbo Wings, 8 pieces, never frozen, pick your own sauce - $6.00

Motz Burgers, our award winning hamburger - $6.00

Add cheese - $1.00

Hot Dogs
Custom made Stahl-Meyer 100% black angus beef hot dog - $3.00

Soy Dog - $3.00

Hot Dogito (corn tortilla wrapped Stahl-Meyer) - $3.00

Bacon Dog (bacon wrapped deep fried stahl-meyer) - $3.00

Special (when available) Coney Dog our own home-made chili topping - $4.50

Sides
Hand cut Idaho potatoes, fried to order - $3.00

Schnack Slaw - $3.00

Vegan Potato Salad - $3.00

Roasted Corn - $3.00

Water Taxi Beach Fixings Bar: Free with purchase
(Mix and Match and make a burger or dog your own )
Sliced Tomatoes
Relish
Mustard
Ketchup
Assorted Sauces for Wings, Fries, and Burger

Michael's Cookies (Choc. Chip & Raisin Oatmeal) - $2.00

Sliced, Ice Cold Watermelon - $2.00

Raw Bar (On Weekends) - Market Price
Local Oysters & Little Necks
Jumbo Shrimp Cocktail
Water Taxi Beach, North Side of Pier 17 at South Street Seaport; watertaxibeach.com
Previously on Grub Street...

Copyright FOODD - NY Mag