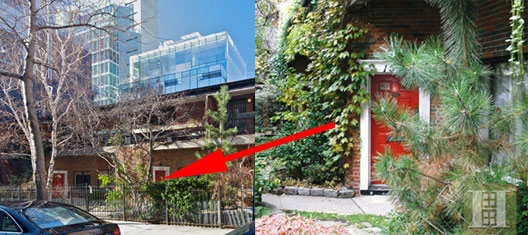 "This is the first time I've ever seen a broker advertise his listing as a wreck," a Curbed tipster writes. "Also, all the years I've lived in New York, I never knew that this Mews existed."

Hey, who doesn't love a good mews? Troubled, confused souls, that's who.

For the rest of us there's 153 Charles Street, which indeed is described as a "townhouse wreck" by Halstead's Richard Orenstein, who cruelly denies rubberneckers photos from inside. But we do get a floorplan, and the revelation that the place has apparently been swallowed up by the forest (but the glassy towers of Perry Street are lurking menacingly in the background, waiting to pounce).

Think $1.3 million for a 1,400-square-foot townhouse is a bit much? Let's not forget that a 999-square-footer in the 'hood recently sold for $2.75 million, though it wasn't a wreck. This one's pure potential, baby.
Copyright CURBD