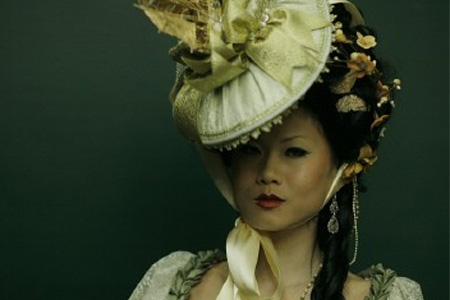 WIGGING OUT: If you missed Halloween's swellegant masquerade ball, fear not! Downtown cabaret outfit Dances of Vice is back at Park Slope's Montauk Club for a Louis XIV-themed "rococo revolution," including performances that include a "signature gorilla strip number a la Marlene Dietrich." We have no idea what that means, and that's why we're going. 8PM.
GOBBLE GOBBLE: It takes a certain sensibility to appreciate the over-the-top character satire of guerrilla comedian Bradford Scobie - anyone who's ever seen him as Dr. Donut, brandishing his cruller at the audience, knows of what we speak - but he's a genius, and will host a Turkey Day burlesque extravaganza as "Pilgrim William" at Joe's Pub. They're calling it "the turducken of shows." And hey, if Scobie doesn't grab you, there's always the pasties. 11:30PM.
SPIN DOCTORS: '80s nostalgics, anglophiles, and fans of Steve Coogan and/or Joy Division, take note: BAMcinematek brings back Michael Winterbottom's cult film 24-Hour Party People - about the rise and fall of Factory Records - at a time when the kind of creativity it documents is sorely needed. 4:45, 7, 9:30PM.
Copyright FREEL - NBC Local Media