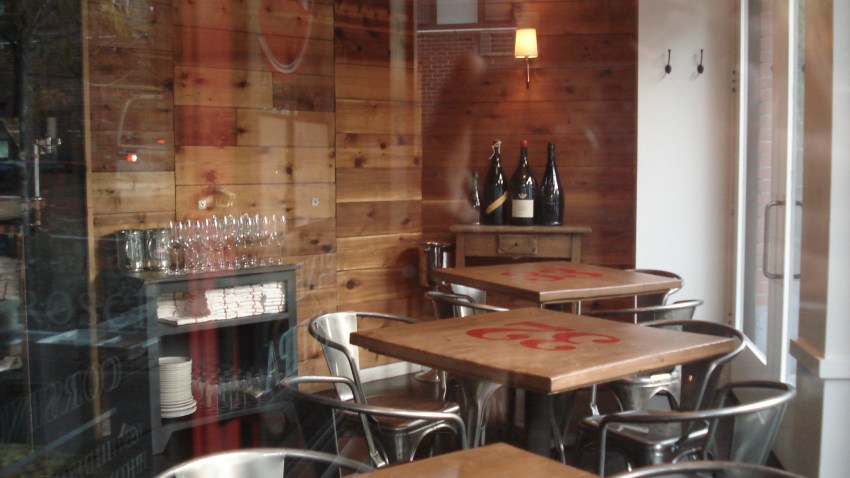 The 'inoteca impresarios Jason and Joe Denton seem to have learned their lesson from Bar Milano, their ill-fated, upscale (though pitch-perfect) Gramercy spot. Corsino Cantina Italiana in the West Village, the duo's newest addition to their empire (joining the original 'inoteca on the LES, the former Bar Milano which is now a second 'inoteca, and the tiny 'ino on Bedford Street in the West Village) tows the small plate line, accompanying the pickings with moderately priced wine.

The menu style will be familiar to fans of the other 'inos, consisting of crostini, antipasti, panini, pasta, and a few meat and fish dishes. The crostini ($2.50 each) range from the standard olive tapenade to ricotta with orange honey to guanciale. Almost all of the salads, pastas and meat dishes come in at $12 to $15 dollars, making this an ideal sampling stop.

And, along with some standards, the selection does wander, giving diners some room to explore. Such rareties as busecca (Milanese tripe soup, $10) stand out. The relative simplicity of crespelle (a sort of Italian crepe) with ricotta tomato and basil ($12) is not too adventurous but nonetheless a nice change of pace from ordinary pasta. And it sits nicely beside some of the more daring dishes, such as coppa di testa and lingua panino ($12).

And the menu goes all in on spiedini (Sicilian-style meat skewers), offering three versions ($14-$16) -- shrimp, chicken, and tuna with sweetbreads. There's also a twist on meatballs (something the 'inos excel at) -- heritage brisket meatballs with tomato and pecorino ($15) -- and a braised heritage pork osso bucco with fennel and onions ($19) that both should be tried.

It may not make you miss Bar Milano any less, but Corsino, which opened Tueday night, is a welcome and homey addition to Hudson Street.
Urban Daddy has the full menu.
Copyright FREEL - NBC Local Media