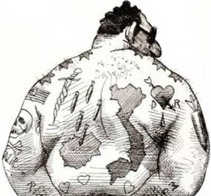 A short list of some of the things New York Times' editors have not wanted you you to see over the years: animal suicide, degradation of the Presidential office, the Venus de Milo being nuzzled by another naked statue, Henry Kissinger as a Yakuza, a light bulb that could be seen as a breast (maybe only by Philip Roth) and all manner of imagined erupting phalluses. According to a recent book compiled by Jerelle Kraus, who served as art director of the Times Op-Ed and Editorial Pages for 13 years, the Times editors were often so skittish that they became worried about editorial cartoonists attempting to sneak subversive or sexual imagery past them all the time, and often created inappropriate scenarios in cartoons in their minds where none existed.
The book, called "All The Art That's Fit to Print (And Some That Wasn't)" features 320 illustrations that hit the cutting room floor or caused controversy when they ran by such artists as Jules Feiffer, Milton Glaser, Charles Addams, Maurice Sendak, Edward Gorey, Ralph Steadman, Larry Rivers, Saul Steinberg, Art Speigelman, Andy Warhol, and Garry Trudeau. What slipped through isn't much, and rest assured there are no dead chimps in the lot.
Despite the fact that in most cases the editors seemed either paranoid or delusional when they struck cartoons at the last minute before press, the anecdotes in the book could give certain editorial page editors a lesson in a healthy dose of caution, and perhaps have spared their boss from making an embarrassing apology.
Copyright FREEL - NBC Local Media