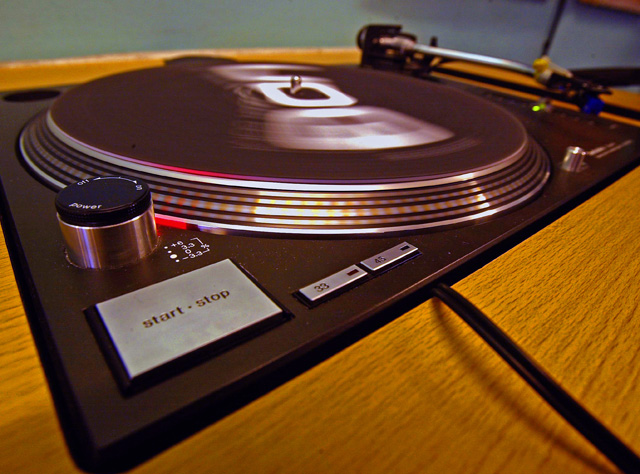 Got epochal plans for the weekend? You do now. WFMU 91.1, the staunchly noncommercial radio station that's been blasting from Jersey City for lo these past 62 years, hosts its annual Record & CD Fair this weekend at New York's Metropolitan Pavilion.

This event is mecca, and then some, for record collectors; we've met international vinyl fetishists who would crawl over their mothers for entrance. And 'fair' still puts the event modestly; the festival boasts 10,000 square feet of rare LPs, CDs, DVDs, and art for sale, as well as performances by punk-rockers Ted Leo, Dan Friel of experimental pop chain gang Parts & Labor, psych-folk upstarts Prince Rama, and more. WFMU will broadcast live throughout the weekend, as well as air movies, videos, and other multimedia offerings.

Of course, this radio bonanza ties in neatly with the CMJ Marathon, the concentrated downtown influx of student DJs who also, magically, still rock vinyl. They'll learn from the best here: WFMU is the longest running freeform radio station in the country and built on both "special format" (or genre/idea-specific) and "regular" (all styles) programming. It's listener-supported and has been called the "Best Radio Station in the Country" by Rolling Stone, not least because it's one of the few things on this green earth that Lou Reed actually likes. (Jeff Mangum, Kurt Cobain, and Thurston Moore also gave thumbs-ups at various times.)

The 2010 WFMU Record & CD Fair runs this Friday from 7-10pm and Saturday and Sunday from 10am to 7pm at the Metropolitan Pavilion, 125 West 18th Street. Admission is $7. Earlybird admission begins Friday at 4pm for $25 and includes weekend readmission. Listen to WFMU at 91.1 or on the live stream.

Copyright Getty