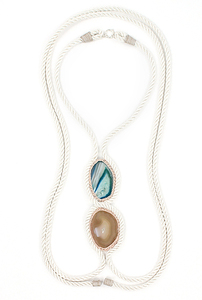 We're so in love with Mimi Jung's line of necklaces fashioned from ropes and agate stones, that it's hard to believe we only came across them a few days ago.
Our discovery of the style blogger-turned-budding-designer's breathtaking wares was the result of some online trolling -- the kind that can lead to hours spent in front of the computer with little to show for it -- only this time it yieled two gems for the price of one. While checking out Jason Jean's fashion photography on Citizen Couture, specifically his recent portraits of the Brook & Lyn blogger, we learned that the gorgeous necklace-slash-belt that Jung was sporting was actually her own creation.
The style blogger's jewelry collection, aptly entitled "Surrounded," launched this summer on her site. Necklaces comprise single and double strands of delicate silk rope, anchored with polished agate and geode stones. We especially adore the "Body Roped" piece modeled by Jung herself, not only for its romantic, summery style, but also for the almost bespoke nature it takes on by becoming a functional part of one's wardrobe. Even if the necklace isn't one of a kind, you'll feel utterly unique wearing it.