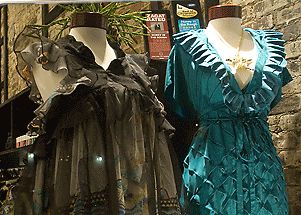 Walking by the charming storefront of Honey in the Rough on the Lower East Side will probably clue you in to the fact that dresses are the store's specialty. But the fact that eyebrow waxes and eyelash applications are available may not be so obvious.
While boudoir-inspired shopping environments are a tried and true formula for women's boutiques, Honey in the Rough manages to create the spot-on, pitch-perfect version. We suspect it's because of owner Ashley Hanosh's decidedly innate poetic style. Her website describes the space, "Never stodgy and never snobby, Honey in the Rough fills a niche in the Gotham shopping scene just by being itself: a beautiful retail mosaic."
We say: like you are pawing through your coolest girlfriend's closet.

Under the radar designers make up the store's stock: Alexandre Herchcovitch, Emma Cook, United Bamboo, Surface 2 Air, Keller, and Katy Rodriguez to name a few. Rosie Rodriquez, brow/lash expert is available by appointment and takes clients right in store. So you'll be literally strutting nice and pretty, perfect brows and perfect dress down Rivington Street. Complete the picture with a cupcake two blocks down at Sugar Sweet Sunshine and call us jealous.
Honey in the Rough is located at 161 Rivington St. between Clinton and Suffolk on the Lower East Side.