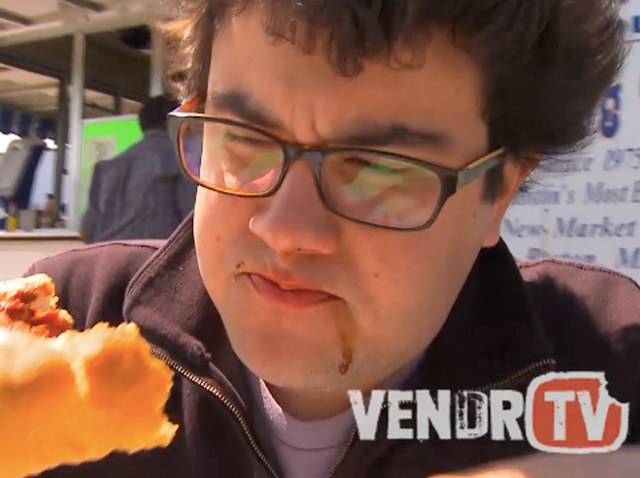 We've made no bones about our love of street-cart food (we have the blisters from lining up at the Vendys to prove it) and so we're thrilled that VendrTV -- Dan Delaney's collection of web podcasts that showcase visits to mobile food venders from coast to coast – is turning a year old. And hosting a birthday party on February 12 at Williamsburg's the Cove for the occasion. From VendrTV:
"The night will kick off with a feast! From 7 to 8 be prepared to pig out on a delicious feast from some of New York's hottest street carts, including Calexico Carne Asada, Schnitzel & Things, and Wafels & Dinges. Plus, wash that all down with free beer from The Brooklyn Brewery.
After you grab your food, be sure to get your glory shot into our Food Porn Photo Booth sponsored by Kirill Photography.
Then, it's time to ditch the dishes and burn off those calories to a night of music / video / and food porn by Eclectic Method."
Food porn photo booth. Really, we'd hop the L train for that alone.
Bonus! Until tomorrow, Serious Eats gives you $5 off the $15 tickets (grab the code here). That's $5 more to spend on something delicious, eaten standing up with sauce dripping on your feet while cars zip by.
Details
VendrTV 1st B-Day Party
Friday, February 12, 7PM
The Cove, 108 N. 6th Street, Williamsburg, Brooklyn; 718-599-5959
$15
More information and tickets here
Copyright FREEL - NBC Local Media