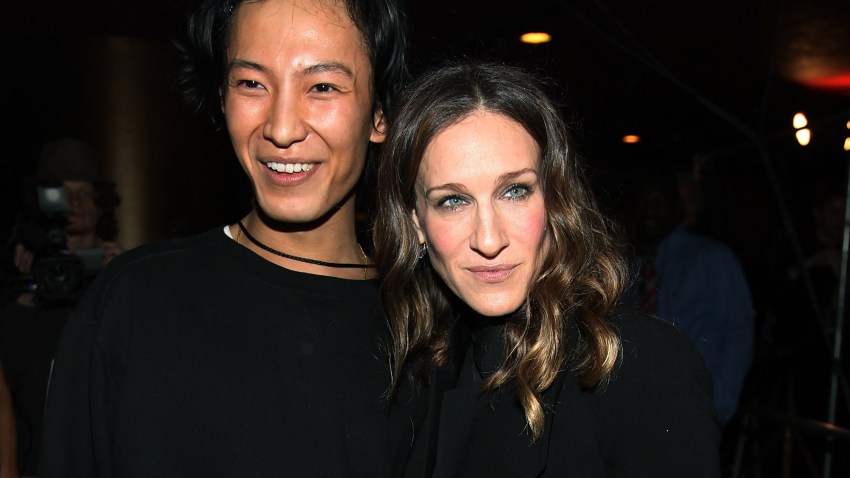 While you were busy looking for Kanye West, we were separating the strong contenders from the merely presenting.
- Vena Cava: While
the opinions at The Post were rather negative
, we were secretly excited that the V.C. ladies opted to take a widen the net of their normally super-classy, feminine styles and risk some '80s glitter and slim silhouettes. Granted, the sheer tops were a little much, but a little black fitted dress with cut-outs made up for it by a mile.
- Jason Wu: Everyone from
WWD
to
Anna Wintour
approves of the budding young designer and his new collection—no small feat, considering the pressures the young lad must have been under after the
Obama
bonanza.
- Ohne Titel: Various sources touted the newcomer as
"the one to watch,"
and for good reason: the subdued-yet-incredibly stylish collection of super-tight fitted dresses and darkly alluring silhouettes tapped into the 'everyone loves the '90s now' vibe, but at the same time felt completely original.
- Alexander Wang: Sarah Jessica Parker and Anna Wintour were laughing and chatting on the front row, and he even managed to pull over biker shorts. This kid is taking '90s style into directions we really never thought possible. The best looks were the
ruched minidresses and shimmery leggings
.
- Rag & Bone: A moody collection of deep blues, flouncy skirts, fantastic knits, and long jackets drew what
Refinery29
described as a
clusterf**k of cool"
—from
Julia Restoin-Roitfeld
to
Rachel Zoe
.
The Losers
- James Coviello: Apparently the NYMag gals could barely even get inside the cramped west village townhouse in which the designer held his presentation.
- Herve Leger: The dresses were predictable, and the runway was so slick that two models slipped and fell.
- The Red Dress Collection: Everyone agreed, even if it does sound pretty obnoxious: while The Heart Truth is most definitely an organization worth supporting (it educates women about the risks of heart disease), their collection was downright dismal. Refinery29 went so far as to call it "80s bat-mitzvah"-ish. Yipes.
Copyright FREEL - NBC Local Media