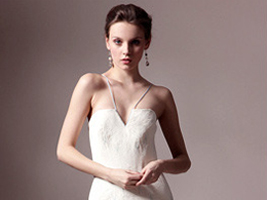 If you're lucky enough to have a wedding on the horizon and prefer to do your shopping online, Gilt Groupe is putting on an entire "Wedding Weekend," with fantastic deals on designer gowns, bridesmaid dresses, suits and honeymoon packages. The sale runs March 12-14 on Gilt.com.
TARGET
This may not be a sample sale per se, but the hugely anticipated Liberty of London line finally hits the racks at Target on Sunday. From what we saw at the Midtown pop-up, it will be well worth any wait that you need to endure -- expect to find a wide array of colorful housewares and clothing. Check it out online at Target.com or you can trek out to your closest Target location. The sample sale runs through Saturday at 1095 6th Ave., 9AM-8PM.
FENTON/FALLON
This two-day sample sale offers discounts on Dana Lorenz's two punk-inspired jewelry lines, including her boldly styled necklaces and cuffs. Friday and Saturday at Freeman Alley at 187 Chrystie St.; Friday, noon-7PM; Saturday, noon-6PM.
DOLCE & GABBANA / D&G
We know, we know -- this is probably the last thing that you needed -- head to Chelsea's Metropolitan Pavilion for deep discounts on Dolce & Gabbana and D&G wares. Friday and Saturday at Metropolitan Pavilion, 123 W. 18th St., 4th floor; Friday, 9AM-7PM; Saturday, 9AM-6PM.
The discounts continue at the Roberta Freymann sale, where you'll find up to 70 percent off select merchandise and their self-proclaimed famous grab bag. Expect a few fabulous steals like a Brera suede clutch for $65 (down from $150) or velvet espadrilles for $125 (down from $275) , according to Daily Candy. Friday to Sunday at 153 E. 70th St.; Friday and Saturday, 10:30AM-6:30PM; Sunday, noon-5PM.
MELISSA SHOES POP-UP
Kaight is offering a pop-up shopping experience for Melissa shoes at the Orchard Street boutique. The installation launched Thursday, but will remain open for six weeks. Kaight is located at 83 Orchard St.
PATRICK ERVELL
For the men out there, this cash only sale will offer up to 70 percent discounts on Patrick Ervell shirts, outerwear, sweaters and sample line, with pieces from the spring/summer 2010 collection. Friday and Saturday at 35 Howard St. #4, noon-6PM.