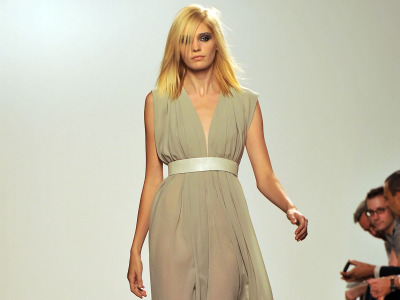 Eva
The labels at this ultra-cool Bowery boutique aren't necessarily on the cheap, but at this point we're talking discounts of $300 or more on most items. Select pieces from Cut-It-Out's wide range of graphic tees will range from $60-$200, and Henrik Vibskov's cerulean blue pants are marked down from $273 to $277.
335A Bowery St. from Friday to Sunday (12-9) for the steals.
Dear Fieldbinder
This Brooklyn boutique will discounts from 35 to 65 percent off apparel and shoes from amazing indie labels like Lauren Moffatt, Fremont, Dagmar, Whitley Kros and more, from June 27 to August 2.
198 Smith St., Carroll Gardens, Brooklyn Monday-Saturday (11:30-7:30) or Sunday (12-6).
Doo.Ri
This two-day sample sale concludes Friday (7/24), so don't miss out on the chance to pick up dresses starting at $200 and skirts starting at $125 from this feminine, minimalist (and New York-based!) talent.
39 West 38th Street, Thurs. - Fri. (9-6).
Calvin Klein
It's that time of year -- when the upscale Madison Avenue shops really start slashing their prices. Calvin is no exception, and right now spring apparel is up to 50 percent off through the end of July.
654 Madison Avenue
Jeremy Argyle
Snap up beautifully tailored men's button downs. Select styles will be up to 50 percent off from Friday to Sunday (11-7).
sample sale if you like her colorful, feminine, often over sized, jewelry. The sale ends tomorrow so stop by 231 W. 39th Street suite 909 today 11-7 or tomorrow 11-5.

Billy Reid Sale
Selections from the men's and women's spring 2009 merchandise will be up to 70 percent off this weekend. The line boasts "Southern-bred luxury," which we interpret to mean plenty of denim, button-up shirts and luxe leather goods. Deals include the sexy menswear blazer (from $475 to $285) and samples from the Billy Reid Limited Edition collection from $20 to $100.
54 Bond St., Now through Sunday (12-9).

True Boutique
This Mott Street location is now offering 40 percent off all denim, separates and accessories for the rest of the month. As an added bonus, get free hemming on all jean purchases!
278 Mott St,
Tuesday-Saturday (12-7) or Sunday (12-6)
First Among Equals
All summer inventory -- including lines like Dunline, Fremont, Corpus, and more -- is now up to 60 percent off at this LES store.
177 Orchard St. from now until August 1. Monday-Friday (1-8), Saturday (12-8) and Sunday (12-7).