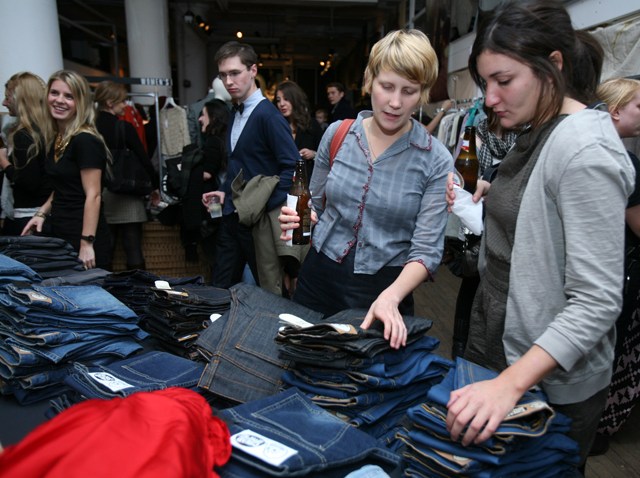 SAVE FASHION
This pop-up devoted to fabulous indie labels ends this weekend, and the organizers just confirmed that pretty much everything has been marked down an additional 20-30 percent, so Kimberly Ovitz motorcycle jackets that were $625 are now $312, a Thakoon floral dress on sale for $549 (was $1445) will get an additional 30 percent off, and a Samantha Pleet skirt on sale for $100 (was $286) is now $70 with the additional discount. INVEN.TORY, 237 Lafayette Street, Friday November 13, 7AM-9PM; Now through Saturday November 21, 10AM-9PM; Sunday November 22, 10AM-5PM
STEVEN ALAN
The massive sale runs over four days at Steven Alan's Tribeca showroom, and the lineup of covetable pieces includes silk chemises by the Lake & Stars (were $170, now $60), chic knit dresses by Spring and Clifton (were $225, now $70), and cashmere cardigans by Demylee (were $260, now $90). The biggest draw of any Steven Alan sale, however, remains the eponymous label's slim-fitting button-downs: Men's shirts that were $168 are now $65, while women's shirts that were $148 are now $55.
Take a peek at our slideshow from opening day for a look at the goods.
87 Franklin Street: Friday, 8:30AM-8PM; Saturday 12-7PM; Sunday 12-5PM
REBECCA MINKOFF
Minkoff's handbags have become a favorite among the L.A. scenesters and the downtown set here in New York, especially her studded shoulder bags and oversize carryalls. Most of the most coveted styles -- included the studded "Morning After" bag and the big Devotte tote -- are available at the sale for serious discounts. Through Saturday at 17 West 17th Street, 10AM-8PM
CHRISTIAN LACROIX SAMPLE SALE
The first-ever (and possibly last-ever) sale promises up to 70 percent off a variety of Lacroix's ready-to-wear merchandise -- from dresses and coats to high-end knitwear. Plus: The event is being held in conjunction with Italian suit-maker Isaia Napoli, making this sample sale one of the few you could probably make into a couples event. 260 Fifth Avenue: Friday, 10AM-7PM; Saturday, 10AM-1PM
VIVIENNE WESTWOOD, IODICE, BLISS LAU, AND ILARIA NISTRI
If you're looking for a unique look to wear on Turkey Day, be sure to check to the Scatola Showroom before the sale wraps up at 7PM. Expect to find up to 75 percent off items from all four designers, with prices ranges from $50 to $300. Scatola Showroom, 544 W. 27th St. on the sixth floor. Ends today (10AM-7PM).

NANETTE LEPORE
The Nannette Lapore sale is another great steal ending today. Looks from the designer are more than 50 percent off with dresses marked down from $335-$595 now selling for $140, and tops marked down from $215$340 to $95. Check it out at 225 W. 35th St. on the fourth floor before the sale wraps up at 7PM.

EBAY HOLIDAY POP-UP
The 5,500-square-foot eBay pop-up shop opens at 3 West 57th today, just in time for the holiday shopping rush. The shop is offering home and toy goods in addition to fashion and beauty finds like L.A.M.B. shoes, Michael Kors handbags, Anthropologie dresses, M.A.C. cosmetics, and Norma Kamali's special collection just for eBay. The sweetest part of the gig? All the proceeds from the shop will be matched by eBay and donated to a variety of charities including Global Giving, Grammy in the Schools, Oxfam America, Right to Play, Save the Children, Share Our Strength, St. Jude Children's Research Hospital, Starlight, Toys for Tots, U.S. Fund for UNICEF and YouthAIDS EBay. Check it out at 3 W. 57th St. from 10AM-7:30PM every day except Thanksgiving (closed). Opens at 11AM on Sunday, November 22 and 29; Opens at 7AM on Black Friday.

HOUSING WORKS
The Housing Works Fall sample sale opens today featuring more than a million dollars in designer merchandise available for 50 to 70 percent off -- Think a Diane von Furstenberg strapless dress marked down from $395 to $145. The sale is hosted by Marc Jacobs and aims to raise more than $500,000 for the homeless population living with HIV and AIDS in New York. You'll find the sale at the Chelsea Thrift Shop at 143 W. 17th St. today through Sunday.

TRACY REESE
Today only check out Tracy Reese's sample sale including merchandise from her most recent line, Plenty and Frock. You'll find the sale at 260 W. 39th St. on Friday from 9AM-7PM.

ISABELLA FIORE
This may be your one stop shop this weekend. Head down to Soho for a wide selection of southern California's Isabella Fiore handbags and Mara Hoffman's bold-printed dresses. Savvy is hosting both sales at their new Soho location at 42 Green St. Friday (10AM-7PM) and Saturday (10AM-6PM).

MZ WALLACE
All handbags from MZ Wallace are going for $100 this weekend, with original prices ranging from 285 to $425. Head to 125 Crosby St near Prince St. on Friday or Saturday from 10AM-8PM.

THE ODEGARD WAREHOUSE
It may be a bit of a trek, but the semi-annual Odegard Warehouse sale is revving up out in Long Island City this weekend. You'll find samples, overstock, discontinued and one-of-a-kind rugs and furniture for up to 80 percent off. The sale is located on the ground floor of 30-30 47 Avenue, Long Island City, NY. Friday-Sunday (10AM-6PM).

ARMANI
As if there is not enough going on, you could always head to the Armani sale at the Metropolitan Pavilion this weekend. From what we hear, you'll find items from the Giorgio Armani, Armani Collezioni, Emporio Armani and Armani Jeans collections for up to 80 percent off. The doors opened to the public at 3PM on Thursday but we're sure you'll still be able to find a few deals this weekend. Metropolitan Pavilion is on 123 W. 18th St. (fourth floor) on Friday (10AM-8PM) and Saturday (10AM-6PM).

RABBIT ON THE RUN
New York City-based French clothing brand Rabbit on the Run is hosting a sale with Prism from Switzerland, Warrior of Radness from LA, and Nina Z from right here in New York. The sale will include one off samples as well as new, limited edition pieces and selected vintage. If you're interested (and don't mind a trip to Brooklyn) head to 99 Franklin St. (between Greenpoint Ave. and Milton St.). The sale runs Saturday and Sunday from 11AM-9PM.