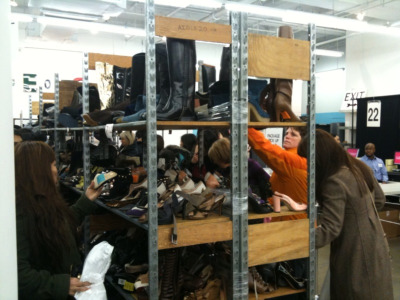 BARNEYS WAREHOUSE
If you're not worn out from Fashion Week head to the biannual holy grail of designer sample sales -- if you're looking for jeans, as of Thursday there was a great selection of rag & bone, Current/Elliott, J Brand, and lots more going for less than $100. Outerwear was also available with a full-length YSL formal evening coat marked down by about $1,000. You can check out our coverage from the sale or head down to 225 W. 17th St. to see for yourself.
JUMELLE
This Brooklyn boutique is offering a spring cleaning sample sale this weekend. Expect to find 60 to 80 percent off collections by A Detacher, Alexander Wang, Bodkin, Rachel Comey and more as Jumelle cleans out its stock room of current and past seasons' inventory. Thursday-Monday at 148 Bedford Ave. in Williamsburg; Noon-7:30PM.
THISTLE & CLOVER
Thistle & Clover is hosting their Valentine's Day Trunk Sale on Friday, offering a variety of items to spice up your holiday. You can enjoy a glass of champagne while you browse lingerie and jewelry from The Lake & Stars, and Nissa Rebecka Froberg. RSVP to infor@thistleclover.com to attend Friday's sale; 5-8PM at 221 DeKalb Ave. in Fort Greene.
CIRCA NOW AND COURT
In honor of Valentine's Day, these two boutiques teamed up for the "Hello Young Lovers" sale offering 50 percent off all vintage stock, and 50 to 70 percent off all fall/winter merchandise. Expect to see items from Pointer, Dunderon, Sophomore, Samantha Pleet and more. Thursday to Sunday at Circa Now on 238 E. 6th St., and at Court on 178 Mulberry St.; noon-8PM.
BABEL FAIR
Check out the new spring looks at this downtown boutique while enjoying a drink and 15 percent discounts off the entire store. Babel Fair offers a variety of international fashions ranging from Japanese denim to Argentinean leather. Saturday at 260 Elizabeth St; 8PM.
SAMANTHA THAVASA
If you don't feel like venturing out into the cold, you can pick up accessories from this designer for up to 40 percent off during the online Valentine's Day sale. You can pick up the leopard print handbag for $114 (marked down from $190) or the black leather two-snap clutch for $150 (down from $250). Head to www.samanthathavasausa.com.
BIRD
If you're like us and have been coveting most of this little gembox's merch for most of the season, you're in luck - discounts are being upped to 75% through February. Isabel Marant and Vena Cava have got some rad pieces left for accessibly low prices. 220 Smith Street, Cobble Hill; 718-797-3774; 316 Fifth Avenue, Park Slope; 718-768-4940; and 203 Grand Street; Williamsburg; 718-388-1655; and online at shopbird.com.
SOME ODD RUBIES
Some Odd Rubies' antique ambience on all their clothes makes for a perfectly vintage-romantic Valentine's Day. They're shilling lots of goods for 50-70% off, now through February 14. 151 Ludlow Street; 212-353-1736.