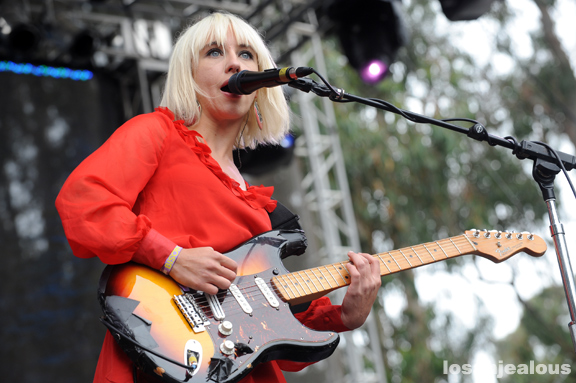 Tuesday, April 16 and Wednesday, April 17, at Webster Hall, TNGHT, $25
In our day to day lives, most of us are turnt up somewhere between 4 to 6. Which is fine. Much more than that and you'll be unable to focus on work or school or whatever, and all the excess gyration will probably unnerve most of the people in your vicinity. But every so often one needs to get turnt all the way up to 10 and beyond. It's good for the heart, good for the soul. When such a time comes, perhaps you might consider TNGHT. A collaboration between art &b weirdo Hudson Mohawke and dance music dude Lunice, TNGHT marries the pitiless bump of modern electro with the shout-it-out hooks and ecstastic keyboard burps of modern R&B. The party will get loose, as will you, and hopefully you will get it all out of your system so you can ride out the rest of the week at around 5 or so.
Wednesday, April 17 at Music Hall of Williamsburg, Thursday, April 18 at Webster Hall, The Joy Formidable, Blood Red Shoes, $22.50
The finest intergalactic guitar power trio to ever emerge from Wales, The Joy Formidable take the basic of dream pop (blissful melodies, heavy atmosphere), underline it with arena-size beats and then push the sound until it's big enough to swallow the moon. The outro of "Whirring," their best song, is three minutes of escalating guitar shrapnel that threatens to tear down everything in its path. Its only flaw is that it doesn't last ten times longer. Oh, and get there early for Blood Red Shoes, a duo where one member seems to want to be in thud-metal band and the other wants to be in a hipster disco band, and they fight it out to pleasing effect.
Saturday, April 20 at Bowery Ballroom, Iceage, White Lung, Parquet Courts, $15
How do you like your punk? Do you like it sarcastic, defiantly smart, but a little frazzled around the edges? Then definitely make sure you get to this bill early for Brooklyn's own Parquet Courts. Do you like your punk outspoken, unapologetically feminist and unconcerned with your need to occasionally catch your breath? Then definitely make sure you get to this bill early for Vancouver's White Lung. Do you like your punk to have an existential knot of dread at its center and cold, remorseless sheen around the edge, but still some nice hooks to share? Then definitely make sure you get to this bill in time for the headliner, Copenhagen's Iceage. Actually, make sure you see all three. You need different punk for different things. Variety is important.