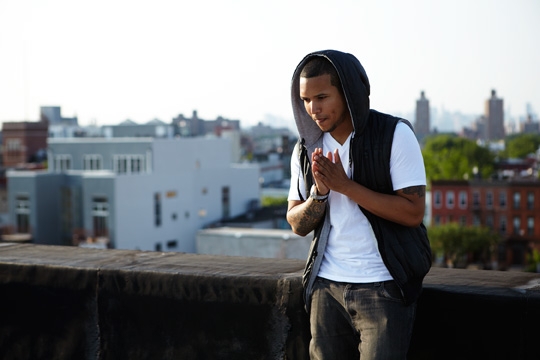 Marcé Reazon is the type of musician whose work you've probably heard but had no idea it was him. He's an audio mixer and engineer by day, and has worked on albums such as Kanye West and Jay-Z's Watch The Throne and West's My Beautiful Dark Twisted Fantasy, as well as albums by John Legend, Kid Cudi and Troy Ave. According to his website, he's also related to Snoop Dogg and Nate Dogg, which is a pretty cool fact.
The Brooklyn resident's newest single "Weston" seems cut from a similar cloth as Kanye's work, with a tense, self-produced beat and casually cocky verses. He showcases an able singing voice on the chorus, and is joined by rapper Dusty Roze for a guest verse. The video was shot in the heavily wooded Weston, Connecticut, and features a trippy camera trick that allows the rappers to seemingly freeze in a pixelated haze, only to appear beside themselves. It's a nice visual metaphor, one that complements the song's chorus of, "We all want them flashing lights."
Marce Reazon - Weston ft. Dusty Roze from Marce Reazon on Vimeo.