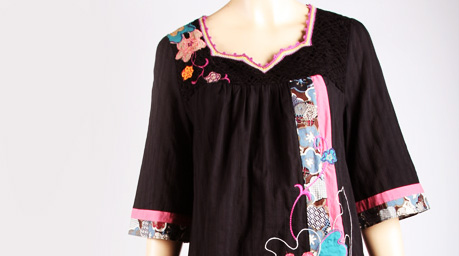 HALF AND HALF: This black dress almost has a chinoiserie thing going on: The sleeves and flower cutouts say Japanese kimono, but the crocheted neckline and soft cotton say "hippie at the beach." Get it ($75) at Noisette, 54 North 6th Street at Kent Street, Williamsburg, Brooklyn; (718) 388-5188, and online.
GROW YOUR OWN: Nature beckons, but you're surrounded by asphalt. Slip this miniature terrarium pendant from WarmCountryMeadows onto a chain -- the 1 ¼" bauble is a real live plant, which comes with instructions for its (minimal) care -- and feel green everywhere you go. $12.99/pair; more information here.
FULL BRAZILIAN: Count on a native of Brazil to turn the swimsuit into an haute objet de fetish: So it is with Amir Slama's label Rosa Chá, known for stunning water wear for men and women alike. At the sample sale ending today, pieces that usually retail for up to $500 start at $49. 2 Great Jones Street at Broadway, 12-7PM.
Copyright FREEL - NBC Local Media