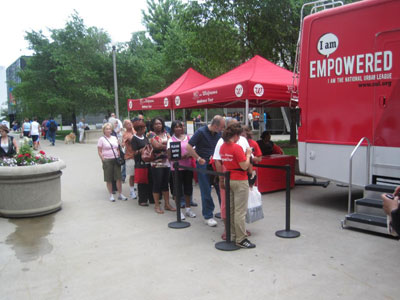 The Walgreens Wellness Tour arrives in New York City this week to offer free health screenings for all adults.
The 40-foot Wellness tour bus offers six free health screenings, including blood pressure, bone density, glucose and cholesterol levels, body mass index and waist circumference.
If you're financially unstable but want to be aware of your current health and learn preventative measures, this is the perfect chance to detect possible diseases early and treat them.
Here is a schedule of where the Walgreens Wellness Tour bus will be:
8/11 12pm – 6pm Walgreens, 1571 Forest Ave, Staten Island, NY 10302

8/12 12pm – 6pm Walgreens, 109-62 Francis Lewis Blvd, Queens Village, NY 11429

8/13 11am – 5pm Walgreens, 21914 Merrick Blvd, Springfield Gardens, NY 11413

8/14 11am – 5pm Walgreens, 3575 Boston Rd, Bronx, NY 10469

8/15 12pm – 6pm Walgreens, 9408 3rd Ave, Brooklyn, NY 11209

8/18 12pm – 6pm Walgreens, 210 Union Ave, Brooklyn, NY 11211

8/19 10am – 5pm New York Urban League, 6 Van Duzer St, Staten Island, NY 10301

8/20 10am – 4pm St. Mary's Recreational Center, 450 St. Ann's Ave, Bronx, NY 10455

8/21 11am – 5pm Walgreens, 11902 Rockaway Blvd, South Ozone Park, NY 11420

8/22 10am – 5pm New York State Office Building, 163 W 125th St, New York, NY 10027