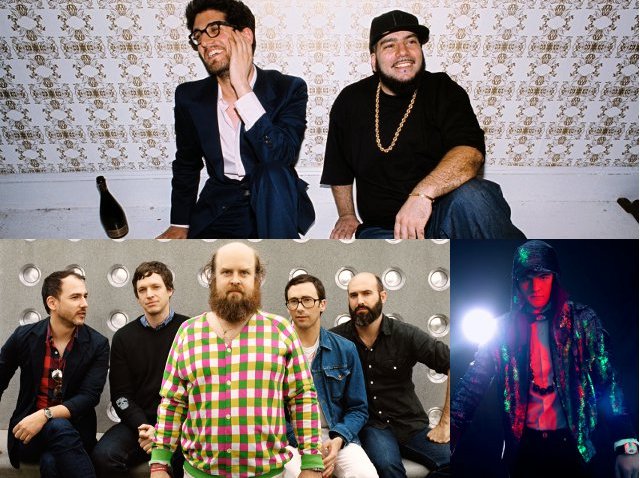 Here at Nonstop Sound, we feel as though the music video, as an art form, is highly undervalued. In an effort to bring attention to the forgotten format we've created the Video Roundup column highlighted some of the best (read: artistic, fun and creative) new music videos out there. We hope you enjoy!
Our first offering comes courtesy of the Canadian electrofunk duo Chromeo whose cop themed 80's throwback video for "Hot Mess" off their latest album Business Casual recalls the glory days of police enforcement depicted in the Beverly Hills Cop and Lethal Weapon films. Director Jérémie Rozan flips the stereotypes of an archetypal police station by having it overrun with beautiful policewomen who appear to have a problem with Chromeo's Patrick Gemayel and David Macklovitch.
The video opens with the boss calling for Macklovitch's badge and gun before sending them on a walk of shame through the station past all their female counterparts. The pair is hazed by their coworkers as they head to the locker room to take a steam in a Russian Bath style setting. Naturally, the two men are surrounded by beautiful women who are doing anything from synchronized swimming to a Robert Palmer "Simply Irresistible" style dance routine. The video capitalized on two things most of us love; a nostalgic, kitschy setting and hot cops. Get your dance on when Chromeo plays Terminal 5 on February 4.
Next up we have a long time favorite of mine, Les Savy Fav, whose catchy single "Let's Get Out of Here" from their recent release Root For Ruin, depicts a skater cruising through the streets of anywhere U.S.A. The skater is comprised of a set of looped clips that looks to be projected from a vehicle as the camera crew blows through the streets of the nameless town. The lyrics and imagery perfectly play up the trapped in suburbia theme so many of us experienced at one point in our lives.
Finally we'd like to introduce you to the Leeds-based producer Graeme Shepherd aka Grum who has won over electronic music critics and fans with booming remixes of artists like Friendly Fires and Passion Pit. The video for "Can't Shake This Feeling" is a marvelous mash up of disco, porn, competitive eating and paternal instincts. If you can't imagine how all those themes could blend into one eye catching video, than simply click the clip. Just make sure your boss isn't looking over your shoulder while you do it.