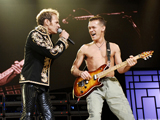 As reported by Rolling Stone, the sort of original line-up of Van Halen is heavily rumored to play a short set at the Village club Cafe Wha? Thursday for a handful of journalists and industry insiders. Though Cafe Wha? is more commonly associated with acts like Bob Dylan, Peter, Paul And Mary and other folk-types that played there in the '60s, it was for many years owned and run by Manny Roth, uncle to David Lee Roth.
After many, many years of hilarious/frustrating jibes back and forth between guitarist Eddie Van Halen and original VH frontman Roth, the pair finally patched up their differences for a reunion tour in 2007. It should be noted that this current version of Van Halen features Eddie's 20 year-old son Wolfgang Van Halen on bass instead of beloved "secret weapon" Michael Anthony, but at least Alex Van Halen is still on the drums.
Van Halen have signed a deal with Interscope Records, and more information about a new album is expecting soon. Until then, the band recently rented a billboard in Times Square with the logo "VH 2.7.12.," which would make for an ideal Valentine's Day gift should that release date stick...though given that this is Van Halen, you're forgiven for not getting your hopes up.