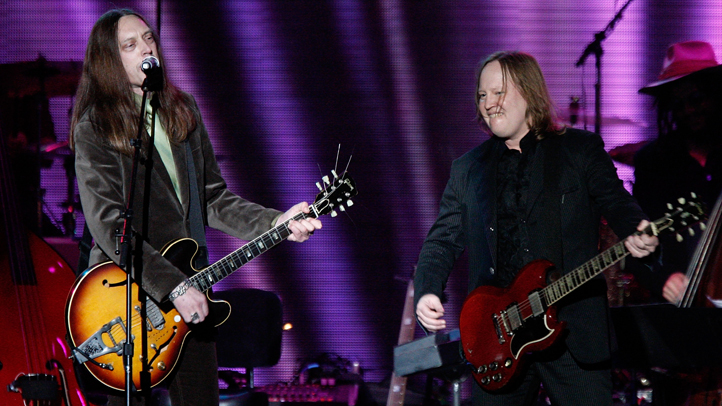 Ever since we can remember, we've been rocking out to "Girl, You'll Be a Woman Soon" on the dance floor with a melodramatic swooning typically reserved for a last-call, last-lights playing of The Smith's "How Soon is Now."
Now that dream has been realized, except it's Wednesday night and we're on a boat whizzing through Manhattan's East River and Urge Overkill is wearing sunglasses and performing to an intimate but enthusiastic crowd for Rocks Off Concert Cruises – and they are ostensibly not playing their Pulp Fiction epic.
Instead, we're being treated to an expertly executed, if not somewhat loud, sampling of tunes off the band's latest album, Rock & Roll Submarine, Urge Overkill's first original material in 16 years.
Before the boat tour of Manhattan's glittering bridges and Statue of Liberty, guitarist and vocalist National "Nash" Kato spoke to us about splitting up, reuniting and why performing the band's most famous track — a cover of the 1967 Neil Diamond classic — is akin to, well, brushing teeth.

Hi Urge Overkill! It's good to have you back on the touring scene! How has the cultural landscape changed in the past two decades?

"Overall, there is less drunkenness and mayhem. Nowadays even the hipsters seem extremely responsible. Back in the day people were generally less conscientious."

What was the catalyst for Urge Overkill getting back together again in 2004?

"A lot of peer pressure and people asking why we couldn't try to get back together. We did not have a good answer for them. So after some thought, here we are. People like Bonn and Hadji were able to provide a voice of reason."

Describe the creative process behind Rock & Roll Submarine, your first album with new songs in 16 years.
"It began with the four of us in Bonn's rehearsal space in North Carolina and an 8-track tape machine. We recorded a bunch of music, some of which served as demos, while other tracks appeared on the album. It was a group effort."

We'll be seeing you performing on a boat tomorrow, going through New York. Besides your own, natch, what's the best soundtrack for such a maritime tour of the city?

"'Trains & Boats & Planes,' by Bacharach/David"

We've gotta ask: are you sick of performing "Girl, You'll Be a Woman Soon?" (We don't think we'll ever be sick of hearing it). How many times do you estimate you've performed the song in the past two decades?

"It is impossible to grow tired of such a timeless classic. However, how excited does anyone get to brush their teeth every day?"