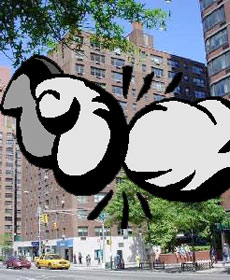 The co-op board members at 301 East 62nd Street really do think the building is well run. Really!

But that hasn't stopped them from engaging in an epic e-mail war, to which the Times devotes an entire column today. Discussions about tax abatement money, a new management company, and elevator issues inspired one board member to call another "Hitler's son."

That board member responded by calling the other "an embarrassment to our board...We need people who can THINK...So you see, there is NO place for you here."

Board president Eliot Hess wrote to another member, "At the next Board meeting, try paying attention to what we're discussing instead of playing with your Blackberry!"
Some board members say the troubles have been cleared up; others say there were still "personal attacks and profanity" at the May 25 meeting.

So what's really going on here? We don't know! But board elections happen June 21, and we do kinda want to see the campaign posters these folks come up with.
Copyright CURBD