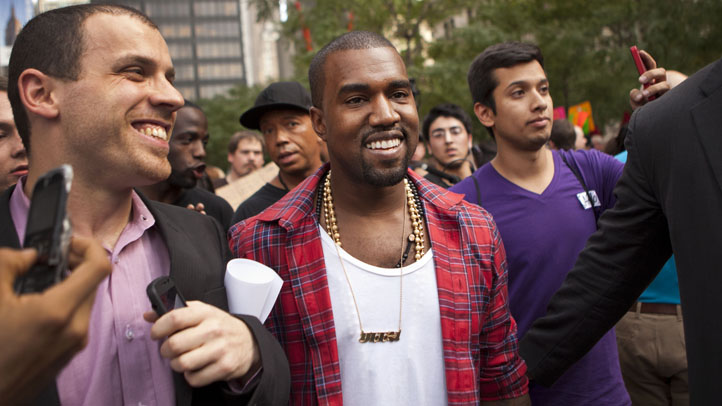 It's Tuesday, time to get your swag/lean on.
First, in case you missed it yesterday, Jay-Z and Kanye West -- otherwise known as The Throne -- added two Madison Square Garden dates to their upcoming tour, due to "overwhelming demand." Tickets go on sale Friday, and every one purchased comes with a digi-copy of the duo's recent album Watch The Throne. Oh also: they're being sued for knowing and willful appropriation of a Syl Johnson sample.
On Monday, The Roots announced the Dec. 6 release of their "first ever concept album" Undun. Today, the Fallon house band dropped, via Okayplayer, the first single from the LP. It's called "Make My" and it's gorgeous and it features Big K.R.I.T. Check it out right here:
The Roots "Make My" featuring Big K.R.I.T. by okayplayer
One of our all-time favorites, Method Man, is back in the studio, recording his follow-up to 2010's Wu-Massacre (side note: stay tuned for a coming Nonstop Sound interview with the Wu-Tang Clan). Nah Right gave us a heads-up on the below behind-the-scenes video of Meth in the studio, recording his new LP Crystal Mef and mixtape Cliff Notes. Guys: Meth is writing raps on an iPad. You are not cool at all.
50 Cent took a break from recording the same song he's been recording since 2001 to push the cause of feeding starving children. In honor of World Hunger Day, Curtis has taken to Facebook to help feed the less fortunate. Apparently, he's the next in a long line of rappers to premier an energy drink, called Street King; for everyone person who "likes" Street King on FB, 50 will feed one child. If the page gets a million clicks in one week, he'll match those donations. Maybe 50's not all cold heart and shrapnel after all...
Talib Kweli took to his own cause recently as well: today, this new track featuring up-and-comer Big K.R.I.T. as well as Outasight and built around a hook from vocalist Mela Machinko. Prefix upped the stream of the track "Beautiful" that was made in support of the American Cancer Society. The track was curated by Matt Diamond, owner of indie hip-hop label Coalmine Records.
"Beautiful" F. Talib Kweli, Big K.R.I.T., Outasight & Mela Machinko by prefixmag
Finally, Pitchfork posted this photo of Tyler, The Creator and Lil Wayne at a sneaker shop. Just thought you'd like to be reminded that dreams really do come true.