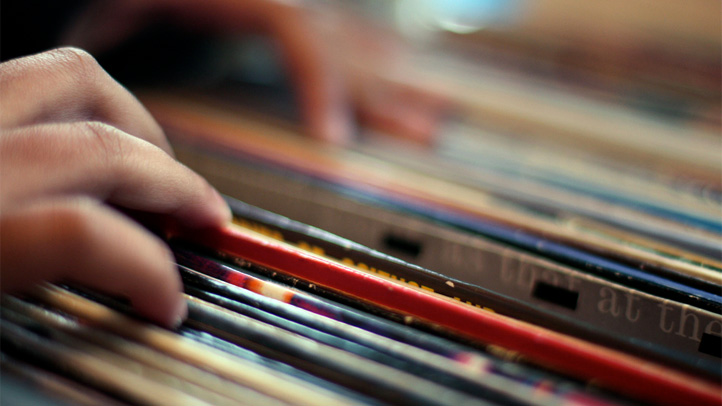 Why are vinyl record sales still increasing, though music sales in general are falling? Because, unlike mp3s, these are actually commodities. Saturday is Record Store Day, which sees the release of a bunch of rare and specialty vinyl. Here's what we're looking out for.

13th Floor Elevators – Wait For My Love
This rare but classic '60s psychedelic cut, remastered here on 7" by Sonic Boom and pressed into green vinyl, has influenced more of your favorite music these days than you can probably comprehend.

Akron/Family - bmbz
A 12" out for boutique indie label Dead Oceans, this release should prove to be exceedingly strange record. Akron/Family's freak-folk archetype has only proven more prominent throughout the years.

Between The Buried And Me – The Parralax: Hypersleep Dialogs
3 tracks clocking in at a seamless 25 minutes of prog-metal-madness? This is guaranteed to be the best kind of train wreck. The vinyl is random colors.

Big Star – Third
Do you like your rock 'n' roll as big as the Grand Canyon? Do you like rare records? This is the buy for you – every 1 in 300 releases contains an actual test press of the bands '70s cult classic.

Deerhoof/Xiu Xiu – Almost Deerhoof, Almost Xiu Xiu
2000 limited edition 7" 45s for Polyvinyl records, the two proponents of the avant-weird collaborate for the A side, Xiu Xiu offer up a new cut for the flip.

Fela Kuti and The Africa 70 – Monday Morning in Lagos Part 1 and 2
A master of the West-African rock appropriation, you can't go wrong with Fela. This 7" is mastered from the original Nigerian release.

Lower Dens - Deer Knives b/w Tanigers
Jana Hunter's Lower Dens project has intrigued us since the get-go – these tracks on 7" are an exclusive release to Record Store Day.

Mississippi John Hurt – The Immortal
The album's name reflects its sound – an absolutely essential album for any fan of blues, which includes all you whining White Stripes fans out there. Here, The Immortal is remastered from the original tapes.

Nirvana – Hormoaning
This is the first US release of the original Australian tour EP from the mainstream propellant of grunge – perhaps the most important record of the day.

Of Montreal – The Past Is A Grotesque Animal
This song is just so good, and I don't even like this band on the whole. That makes this 7" perfect – the track isolated on side A, with an alternate take by The Lost Trees (Kevin Barnes, Nick Zinner, and others, for Spike Jonze).

Off! – Live At Generation Records
Off! Might be the last breath of original American hardcore, fronted by Black Flag and Circle Jerks originator Keith Morris. If you haven't had a chance to see the still-pissed, still-energetic band, this is the record for you.

Opeth – The Throat Of Winter
"Really?" you're saying, "Opeth?" Yes. Because it's an art-disc: the B-side is an etching. Don't even have to listen to it!

Peter Tosh – Legalize It b/w Equal Rights
Limited edition green-red-yellow vinyl that resonates with as many people today as it did during its original release in the '70s. Reggae for the regulated.

Sonic Youth – Whore's Moaning
The New York noise-rocker's counterpoint to the Nirvana EP, also the first U.S. release of this rarity.

Television – Live At The Old Waldorf
Exclusive to Record Store Day, 2xLP on 180 gram white vinyl. Pair that with the fact a live set by the proto-punkers is increasingly rare, and you've got something quite elite on your hands.

The Black Angels – Phosgene Nightmare
These modern masters of the psychedelic release six unheard tracks to counter their great 2010 release Phosphene Dream, including a cover of "Entrance Song" by Kyp Malone's Rain Machine project.

The dB's – Picture Sleeve
Taken from the band's forthcoming 2012 record, this NYC power-pop band hasn't put out a record in 20 years – here's its first material since.