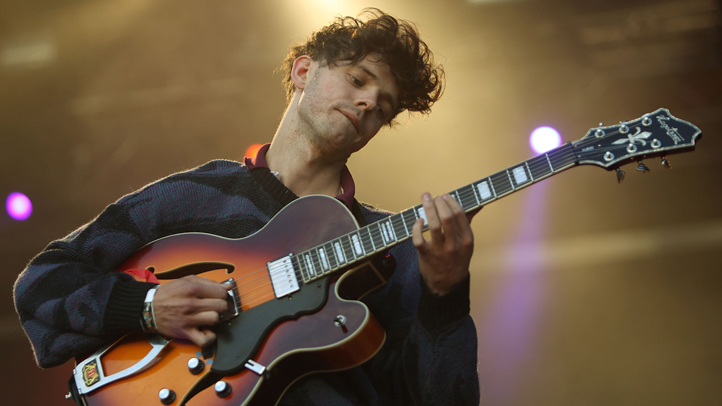 We may have just crested the 20th anniversary of one of the most bro-fiving albums of all time, but we must overcome the past. Tuesday is new record day - preview what's good before you cough up the coin.
Brooklyn's dancey pop minimalists The Drums are back with their second release, an upbeat slab of vocal hooks, driving bass, tasteful layers of analog synth, and philosophical phrasings called Portamento. Returning after their critically lauded self-titled debut, The Drums here are a little darker, a little more mature. If their first record was suitably bright for you, this may be the downplayed counterpoint. The New York Times Magazine has the stream.
Staten Island's own pop-deconstructionist Cymbals Eat Guitars are back with their new long-player, Lenses Alien. It's an equally noisy, experimental take on indie formalisms, merging clear, upfront vocals with collisions of piano, feedback loops and '90s alt-rock choruses. And with that description in mind, it's actually a little more accessible than the band's last release. Spin has a good feed.
Balam Acab is the demonic moniker adopted by 20-year-old producer Alex Koone, an Ithaca student who takes reprise from his studies to craft some of the seriously most beautiful beatscapes out there, in the flurry of the post-dubstep fallout. Koone's excellent debut LP for Tri Angle records, Wander/Wonder, is a watery, propulsive meditation on the dark and mysterious. NPR has the full record on view.
Blood Orange is the new handle of Dev Hynes, previously known as Lightspeed Champion. The now New-York based electronic producer and singer is working with Solange Knowles on her new album, but managed to crank out the new mellow, somewhat Prince infused album Coastal Grooves. It's one of the last summer albums of the season, and Spinner's got that one cued up for you.
If you haven't heard Wild Flag yet, here's the brief: Female indie super group consisting of members of Sleater-Kinney, Helium and The Minders. Though based in Portland, they find their way to New York often enough to be one our favorite live acts. This records' been pretty anticipated and I gotta say, it's a pretty upstanding release. But what else could be expected? It's an album about the unifying power of music, and a foreshadowed lament on that power's loss. NPR's got the privilege of that one as well.
Rage Against The Machine's Tom Morello is out with a new record, which on first listen is a straight-up rock affair called World Wide Rebel Songs under his The Nightwatchman label. It's a bluesy, angry, sometimes awkward affair, a political record for a time when I'm not sure political records matter. Part Lou Reed ballad, part agitated alt-rock, this one's probably a superfan album. Pass your own judgment at Spinner.
What did we miss? Tell us how bad we are at music!