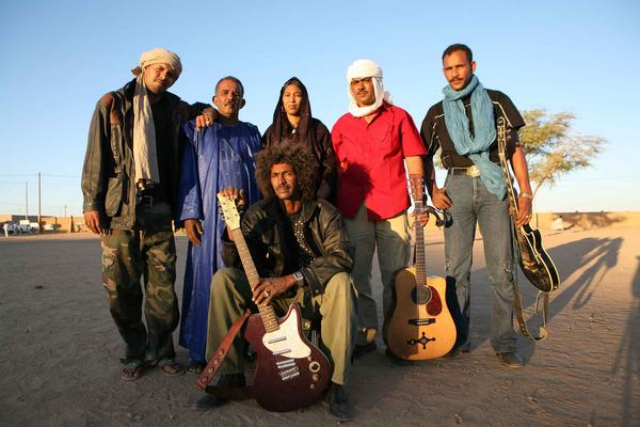 There are few things better than a great band with a purpose. Tinariwen, playing tonight at Warsaw, is one of those bands.

All of the musicians originate from the southern Sahara, and their story is unique, to say the least.
Pressed into involuntary military service, the group began experimenting with updating their traditional songs into modern arrangements, using electric guitars and drums. They came up with a style termed "Tishoumaren," which translates into "the music of the unemployed." The group's name translates to "empty spaces," which is at once evocative of their wandering, atmospheric music and their homeland.

This protest music caused their first two albums, The Radio Tisdas Sessions and Amassakoul, to be outlawed in Algeria and Mali.

The band's music will sound immediately familiar to people acquainted with other sounds from the region, like Mali's Ali Farka Toure. Spidery guitar lines weave in and out of polyrhythmic drums and chanted vocals, creating songs that are haunting and deeply hypnotic -- you can lose hours listening to the band.
They're preceded by Buke & Gase at 9:45 p.m. and Piers Faccini at 9 p.m.. Tinariwen hits at 10:45 p.m. -- get there early, because this one could sell out.