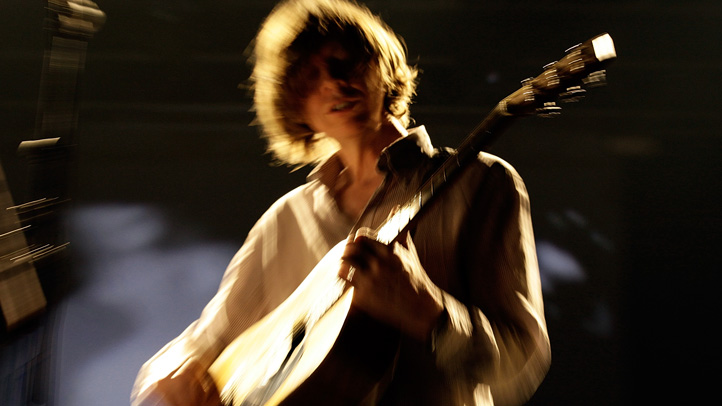 Some of us cling to every fractured note Thurston Moore wrenches from his doped-up and damaged guitars. And though his dissonant, exploratory work hasn't always been for the casual listener, his recent Beck-produced album, Demolished Thoughts, proves to be a widely accessible melodic collection. I guess he always knew exactly what he was doing when he made his guitar scream.
Questlove tweeted yesterday that Thurston was "channeling Sun Ra" for his performance on the show last night, but I'm not sure which Sun Ra Questo has been listening to -- these are some of the tamer cuts Moore has ever done. He does get pretty feisty with it at the end of "Circulation" -- and you can see it here if you skip forward -- but for what we got to see, the Sun Ra influence stayed in the back catalogue. Bummer.
Moore also did "Blood Never Lies" as a web exclusive, which we've embedded below.
In other Sonic Youth related news, Moore and wife/bandmate Kim Gordon have passed the musical itch onto their daughter, Coco Gordon Moore. Big Nils is the name of her band and you can listen to the Nils' thrashy album on Bandcamp right now, including the immediate single "Herpes." (via P4K)