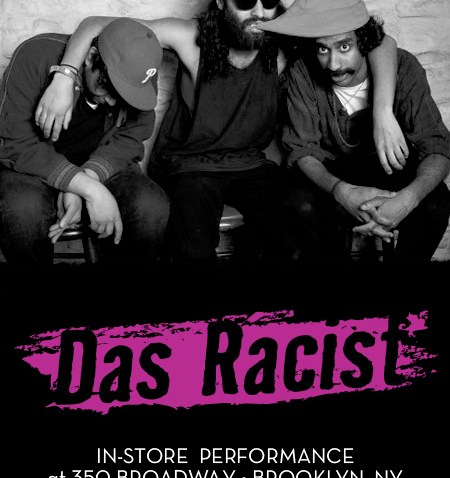 Mishka, southside Williamsburg's HQ for streetwear, welcomes neo-hip-hoppers Das Racist tonight for their in-store music series. Not only is it a free show, but you'll get first crack at the trio's very first piece of merchandise! ever!, a glow-in-the-dark t-shirt designed by the Mishka crew featuring Aladdin astride his carpet, seemingly in the throes of having sliced off his own head (see for yourself). Interpretations welcome.
Dapwell, Heems and Kool A.D. will kick things off around 7. In the meantime, you can still free-download Das Racist's release (is it a mixtape? is it an album?) Shut Up Dude over at Mishka's blog to brush up on tracks like Combination Pizza Hut and Taco Bell--a true bit of American poetry, if ever we heard one--before hearing them live.
Das Racist in store performance, Mishka, 350 Broadway, Williamsburg, Brooklyn, 718-388-1725, Thursday, November 18, 7PM, $Free.
What I'm listening to: I Gotta Get Drunk – The Little Willies