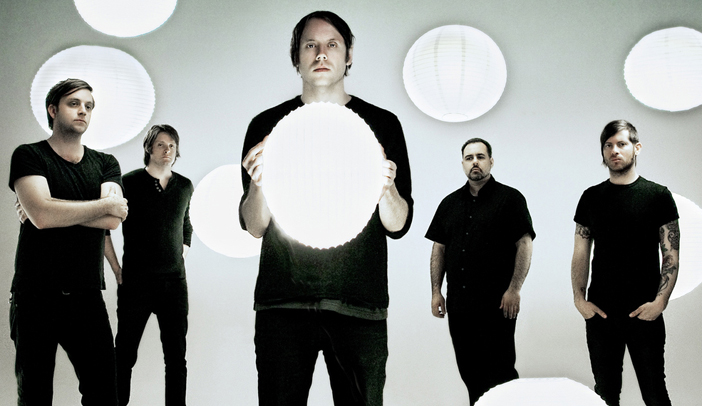 Long-running New Jersey punk stalwarts Thursday have announced that following their current tour, they will be taking a break for an indefinite amount of time. That makes Wednesday's show at Irving Plaza their last New York City performance for a while.
"Despite the fantastic year that the band has enjoyed, creatively, things haven't been as easy for us on a personal level," reads a note on the band's website. "Without diving into detail, it's fair to say that this year has been an endless series of personal difficulties. We haven't had any falling out and are all still close. I'm sure that we will continue to create, in some capacity, together. We've talked about turning Thursday into something else: a nonprofit, a band that only records sporadically, a collection of other projects/ Underneath it all, the personal circumstances involved make it impossible to continue Thursday in the spirit that has made it special. So, we stop. For now, at least.
"We hope to see many of you at these last shows. They'll be a lot of fun. We promise."

Thursday debuted with the 1999 album Waiting and caught national attention for 2001's Full Collapse and its single "Understanding in a Car Crash." They signed to Island Records and released the acclaimed War All the Time in 2003.
Back in the early aughts, passionate, smart punk and hardcore-influenced groups like Thursday, Thrice and Brand New were lumped together under the much-hated genre term emo, which at the time seemed like a music scene with a great deal of artistic promise. At the risk of sounding like a cranky old man, that artistic promise got quickly smothered under a hefty-signing fee pillow as major labels snatched up a series of gimmicky, pandering acts that really stank up the joint and made old-guard fans wonder why they bothered in the first place.
Never the pandering sorts, Thursday did not quite hit the commercial heights predicted for them, but they carried on admirably, continuously pushing themselves to explore new sonic and lyrical horizons on albums like 2009's Common Existence and this year's excellent 'No Devolución', which they recorded for Epitaph Records. Should this be it for Thursday, they leave behind a legacy of insightful, empathic and blistering songs that they can be proud of, and this writer can attest first hand that singer Geoff Rickley is one of the smartest and most thoughtful people you could ever hope to talk to.
At the time of this writing tickets are still available for tonight's show.