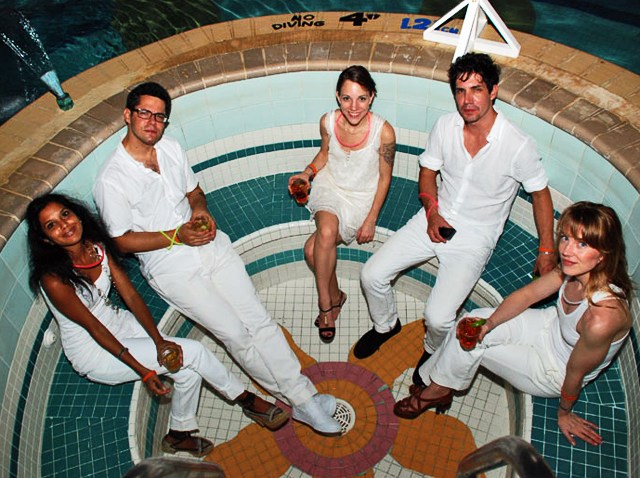 What happens when you send 150 bloggers to Jamaica and give them all the Red Stripe and shots of rum they can drink? That they would all end up in a swimming pool fully-clothed (wearing white, no less) was a given. But that Obama Girl would end up in the emergency room after being crushed by a light tower on the dance floor during a monsoon? Now that was a surprise.

(She's lived to Tweet about it, by the way, and Sandals is very sorry.)

JetMystery, a three-day trip to a previously undisclosed location (guests were kept in the dark until a reggae band clued them in at the gate), was a collaboration between Jet Blue and Thrillist to promote the airline's newest Caribbean destinations. In addition to the PR and media guests, a handful of seats were reserved for winners of the JetMystery contest, which received over 26,000 entries. (One of those lucky people also ended up winning a three-day, four-night future stay at the Iberostar Rose Hall Grand, the event's all-inclusive resort sponsor.)

Service to Kingston, Jamaica starts October 30, with a special introductory rate of $49 each way. Since the pictures from last weekend pretty much say all that needs to be about the festivities, here are a few reasons that you too might want to hop on the first flight out of T5:

1. The flight to Jamrock is 3 hours and 43 minutes. Sure, there is plenty of leg room and a bazillion cable channels, but do you really need them? By the time you've shed your thermals, a woman in a pineapple hat is going to be handing you a similarly attired bobble-head key chain doll: "Welcome to Jamaica, mon!"

2. Red Stripe Light. You can't get it yet in the U.S. -- Diageo, which owns Guinness and just about every other liquor consumed by the average twenty-something on a Saturday night, is expected to begin importing it by the end of the year -- but for now, Jamaica, where it is brewed and bottled, is the only place to get the lighter, long-necked lager. The iconic bottles, which the locals refer to as "police" because they have the same stripes as the cops' uniforms, unfortunately aren't being used, but it does taste pretty good, and if you really can't stand the disappointment, order it on draught. And then do a shot of Appleton Estates 15-year-old and stop worrying about the homogenization and monopolization of the beer industry, because you're in Jamaica, mon!

3. Where else can you go for a leisurely swim in the bay and buy all the ganja you need from a man on a stand-up paddle board selling beaded necklaces out of a milk crate? Just be sure to keep your stash above water on the return swim and then, don't worry, mon, because you're in Jamaica!
4. Pull your soggy skin away from the pool bar for an afternoon and (gasp) even leave the premises of the resort for a Chukka Adventure. The Flight of the White Witch Canopy Tour proves that a good enough view can overcome even the most paralyzing fear of heights. If you prefer to stay closer to the ground, mount a steed for the Horseback Ride N' Swim, which, by the way, means that you ride the horse while it swims.
Copyright FREEL - NBC Local Media