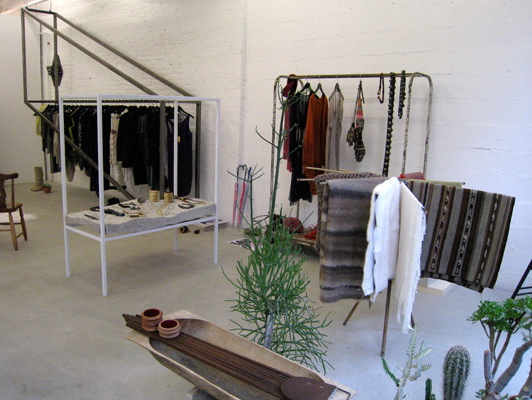 Who knows when Topshop will finally open or how long some of our favorite corner shops will last in this dwindling economy. But these are some fantastic boutiques that have really stepped up to the plate in 2008. If you haven't been there yet, make a resolution.
Rag & Bone
In a genius move, the folks behind this earthy sportswear label chose to open their first boutique in the city on a less-trodden stretch of Chistopher Street that's still close enough to the Bleecker shops to attract serious interest. Decorated with quintessentially woodsy vintage, tin ceilings, and exposed brick, the decor is a nice counterpoint to the plaid, denim, and cozy sweaters within. Well played, lads.
Maryam Nassir Zadeh
Nestled amid dozens of ultra-tiny, crammed shops on the Lower East Side is this refreshingly gallery-like space (pictured) on Orchard Street, decorated with cool salvaged furniture, Navajo blankets and cactii. The owner and namesake of the store is a RISD grad with an eye for must-have indies like Vena Cava and Rachel Comey alongside lesser-known-but-no-less-worthy designers like Elena Estaun Sanchez and Jasmin Shokrian.
Fred Flare
With a motto like "stay cute," what's not to love? Fred Flare wooed us online with their clever knick-knacks and endearingly affordable clothing, and then they opened a cheery shop in Greenpoint and we were completely won over. You'll find everything from retro boombox speakers for your iPod to Gossip Girl t-shirts here—we dare you to leave without buying something.
Copyright FREEL - NBC Local Media